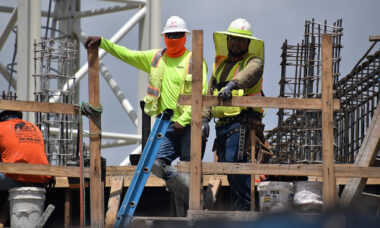 One of Canada's largest cannabis companies has announced plans to restructure in a bid to achieve profitability and set the stage for expansion into the US market.
Canopy Growth will carve out its Canadian operations into a stand-alone business unit and has appointed David Paterson as president for Canada.
"Through the changes, our executive structure and operations are now more closely aligned with the areas of greatest opportunity and reflect Canopy Growth's resolute focus on achieving profitability in Canada," the company said. "Together with our recently announced strategy for fast tracking entry into the US, these adjustments further position Canopy Growth to realise our ambition of North American cannabis market leadership."
Paterson, who worked for Canadian rivals Aurora Cannabis and Indiva before becoming vice-president of commercial partnerships and strategy at Canopy Growth, will be responsible for Canopy's commercial and go-to-market functions with a goal of achieving sustainable growth.
As part of the restructuring, 55 employees were laid off and chief commercial officer Julious Grant is leaving the company.
Canopy Growth stock rose following the announcement but its share price is still well below the level it was at a year ago.
Staff laid off, stores sold, as Canopy refocuses
Recent months have seen several changes at the company. In April, Canopy Growth laid off 250 staff, saying it was in a bid to achieve profitability.
In September, it announced that it was "advancing its path to profitability" by selling its retail business across Canada. Four20 Investments bought its five stores in the province of Alberta, while OEG Retail Cannabis, which owns and operates Canopy Growth's franchised Tokyo Smoke stores in Ontario, agreed to buy all the rest.
In October, Canopy Growth announced plans to speed up its plan to enter the growing US market by creating a new US-based holding company, Canopy USA.
In a call last month with investors and analysts, Canopy CEO David Klein said the company planned to hold a special meeting of shareholders early in 2023 as part of the move to establish the US company.
The decision to sell off Canopy's retail operations "reduced channel conflict" and created an opportunity to work with 100 additional stores, he said. Chief financial officer Judy Hong said the changes the company has made have had some impact this year but are expected to have more of an impact in 2023.
– Elizabeth Thompson CannIntelligence contributing writer
Photo: ArtisticOperations