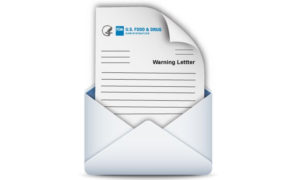 What was believed to be the world's first injectable CBD product is gone as quickly as it arrived after the company behind it issued a voluntary recall.
Biota Biosciences was recently warned by the US Food and Drug Adminstration (FDA) to stop marketing its injectable CBD products because they constituted unapproved new drugs that "pose a serious risk of harm to users because they are delivered directly into the bloodstream and bypass many of the body's natural defenses against toxic ingredients, toxins, or dangerous organisms that can lead to serious and life-threatening conditions such as septicemia or sepsis".
About a month after the warning, Biota announced that it would voluntarily recall its injectable products as they were marketed without FDA approval and did not have adequate directions for use.
"Biota Biosciences is notifying its distributors and customers by email and is arranging for return of all recalled products. Practitioners or consumers that have product which is being recalled should stop using product and return to place of purchase," it said.
Products were sold throughout the US and one shipment went to New Zealand, the company said. It had claimed that CBD would help suppress pain and "aid in the detoxification processes" as well as being a promising therapeutic for epilepsy and many neuropathic conditions.
The current scientific consensus is that the body needs absolutely nothing beyond its natural filtration systems to "detoxify".
More 'unsubstantiated health claims'
Meanwhile, the FDA has also sent another warning letter to a CBD company. This time it told the Puerto Rican firm CBD Gaze that the earning of commissions through the promotion of the sale of CBD products making health claims still constituted an offence.
The FDA said that CBD Gaze's participation in the Amazon Associates programme (Amazon still currently prohibits the sale of CBD products through its online marketplace) involved the use of unsubstantiated health claims.
This included claims that CBD oil could help fight COVID-19. Following its normal procedure, the FDA requested CBD Gaze take immediate action to rectify the claims or face further enforcement action.
So far CBD Gaze has not been reported as complying with the warning. Three other CBD firms recently warned about COVID-19-related health claims do appear to have complied with the FDA's cease-and-desist requests.
Apollo Holding was offering a "noronaPak" that included CBD among other supplements. It was marketed with claims that the pack could boost immune health. The FDA said it had complied with its warning letter to correct violations.
Similarly, Noetic Nutraceuticals and AgroTerra (trading as Patriot Hemp Company) have both been listed as complying with FDA orders to change marketing and other media posts making unsubstantiated health claims relating to COVID-19.
– Freddie Dawson CBD-Intel staff