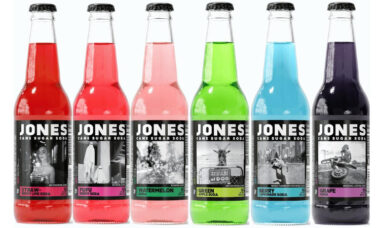 Cult favourite Jones Soda will enter the US cannabis-related beverage market, while an Oklahoma firm's new beverage launch looks well positioned to capitalise on any move to a recreational market in the state.
Jones Soda, a Seattle-based soft drinks specialist with a large following, said it raised a total of $10m to fund its entrance into the cannabis market.
It plans to use the cash to fund a Jones-branded line of CBD-infused drinks, edibles, and other related products to be managed by a new subsidiary, separate from its craft soda business.
"We believe that cannabis-infused beverages and edibles are a perfect fit for the iconic personality of the Jones brand," said the company's president and CEO Mark Murray. The new business line will transform the company while still fitting into its current business model, he added.
'Seven to ten times bigger than cannabis'
The announcement follows a $9m investment by Toronto-based hemp portfolio firm Heavenly Rx investment in 2019 to buy 15m shares in Jones Soda, bringing its stake in the company to 25%. The agreement also allowed Heavenly Rx to acquire an additional 20% stake and acquire stock in the open market in order to bring its total share to 51%.
Heavenly Rx CEO Paul Norman, former president of Kellogg North America, predicts strong future growth for CBD beverages in the food and drinks sector and has plans to make Jones Soda a market leader in the drinks sector.
Norman said he wanted to target mainstream retail as well as convenience stores and drugstores and pharmacies in the US.
When asked to predict growth in five to ten years' time he said: "CBD relative to cannabis would be seven to ten times larger so it's a much bigger market. I also think it's very much more a consumer-type market. There's a long-term trend here that will sustain and go on for many years."
There's a bright golden haze on the meadow
Meanwhile, Oklahoma cannabis firm Nirvana Group has launched a new line of THC-infused medical cannabis beverages called Liquid Leaf, currently available in cannabis dispensaries across the state.
"Oklahoma has the largest medical [cannabis] market in the country, and we're thrilled to introduce innovative new products to the community," said Nirvana Group CEO Arshad Lasi. "Nirvana Group's newest initiatives, within both the product development and retail sectors, epitomise our growth, the overall role we play as an intrinsic part of the future of the marketplace in Oklahoma and our plans for expansion beyond state lines."
Liquid Leaf is a line of beverages infused with 100 mg of THC. The firm says the ingredients have been "seamlessly blended and therefore do not separate", meaning there is no cannabis flavour.
Current flavours are Golden Pineapple and Grape but new flavours and formulations are in development, including 1000 mg THC drinks, carbonated sodas, and seltzers.
What This Means: Despite legal and technical challenges, the outlook appears positive for cannabinoids in food and drinks, with wellness and emotional health likely to become ever more important to consumers in the wake of Covid-19.
– Lorraine Mullaney CBD-Intel staff