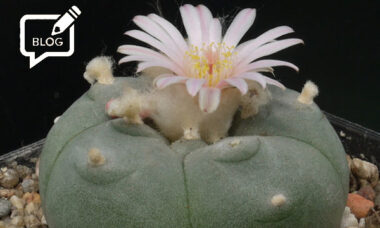 Drug legalisation as an issue truly does bring together some strange bedfellows. Following on from a look at how cannabinoid regulation is increasingly becoming a bipartisan issue as more traditional right-wing followers start to support it comes the news that the Navajo tribe is considering formally opposing decriminalisation measures for peyote.
At first glance it could be assumed that Native Americans would embrace decriminalisation measures for traditional substances that have been criminalised in the US. But having been granted a degree of autonomy and freedom to use things like peyote in the religious ceremonies of federally recognised tribes, groups such as the Navajo now worry about the impact any further decriminalisation measures will have on the availability of the hard-to-grow cactus.
Peyote, a small, spineless cactus which contains psychoactive alkaloids, particularly mescaline, grows primarily near the US-Mexico border in Texas and takes more than ten years to mature and begin flowering.
Leaders from the Native American Church of North America (NACNA) went to Washington DC to discuss peyote access issues. The National Congress of American Indians has promised to support the Navajo if it chooses to oppose further decriminalisation measures.
Currently the Navajo Nation Council is considering a measure that would include a formal statement opposing any move to further decriminalise peyote. The measure, which has passed through three Navajo legislative committees, has not been halted after a sponsor from the Navajo religious body said members were not all on the same page.
Limited access vs increased supply
This may be related to recent news that members of the NACNA have held meetings with US federal lawmakers on the potential for preserving and protecting habitats where peyote can be grown. After all, if the main concern for the Navajo is continued access to peyote being threatened by increased demand, one solution could be to promote methods for increasing availability rather than limiting access.
If the motion to oppose decriminalisation does pass, it would put the Navajo Nation firmly in opposition to any state decriminalising the use of peyote. The measure would urge all states to limit the non-criminal use of peyote to religious, ceremonial and cultural purposes only, as it is stated in the American Indian Religious Freedom Act amendments of 1994.
This – strangely – would put them on the same side of the debate as staunch drug prohibitionists – politicians and allies that will in all probability be diametrically opposed to the Navajo leaders on most other issues.
It would be an alliance reminiscent of the recent fissure revealed in cannabis where larger companies – generally multi-state operators – have opposed various cannabis access measures including home growing, social equity programmes and more open licensing options.
Clearly – like support for liberalisation measures – opposition to drug reform and liberalisation comes from a wide variety of sources.
– Freddie Dawson CBD-Intel staff
Photo: Dav Hir / Wikimedia Commons