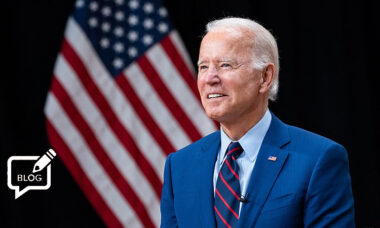 When the Democrats took control of the White House at the start of 2021, for some the signs appeared to be pointing towards cannabis reform – though president Joe Biden's position on drug reform cooled matters slightly.
Biden made some appointments that appeared to be favourable, Gallup polls indicated that 68% of the American public believed in legalisation, and industry insiders stepped up their lobbying activities – including powerful tobacco, alcohol and pharmaceutical firms.
Yet no cannabis-focused legislation made it onto Biden's desk for signing. Why was that?
As the year progressed, the debate became more complex and exposed divisions within the proponents of reform themselves.
When the Democrats took control of the Senate in January 2021 New York senator Chuck Schumer, a long-time supporter of legalising cannabis, took the role of Senate majority leader from Republican Mitch McConnell. McConnell, who had been a key blocker of Democratic legislation during his six years in office, was now minority leader, in a move that opened up a narrow window of opportunity for cannabis reform.
However, Schumer's first speech as majority leader indicated that the Democrats had more pressing priorities.
The long struggle
"This Senate will tackle the perils of the moment: a once-in-a-generation health and economic crisis. And it will strive to make progress on generations-long struggle for racial justice, economic justice, equality of opportunity and equality under the law," Schumer said.
He also declared that the Senate would address "the greatest threat to this country and to our planet – climate change".
Clearly, the new administration had a lot on its plate.
But, in July, Schumer – along with senators Cory Booker and Ron Wyden – did release a discussion draft of the proposed cannabis reform regulation: the Cannabis Administration and Opportunity (CAO) Act. And it was the ensuing discussion of this act that exposed differing opinions about which way to reform.
Senator Booker's vision included removing cannabis from the Controlled Substances Act and expunging federal convictions for non-violent cannabis possession. This would "restore justice" and clear obstacles for "socially and economically disadvantaged individuals" who were seeking to enter the legal cannabis industry.
This broader version of reform would establish relief for "individuals most adversely impacted by the War on Drugs".
However, other Democrats favoured more incremental legislation that would be easier to pass, such as the SAFE Banking Act, also known as the Secure and Fair Enforcement Act. This protects banks and financial institutions that choose to service cannabis-related businesses operating within their state's legal frameworks.
Complicated debate
Supporters of SAFE argued that it would benefit smaller cash-only legal cannabis businesses by giving them access to banking services such as checking accounts, credit card processing and commercial loans and that the act would be a first step to reform that could be built on later.
However, Booker has made it clear he has little time for the SAFE Banking Act: "I will lay myself down to do everything I can to stop an easy banking bill that's going to allow all of these corporations to make a lot more money off of this, as opposed to focusing on the restorative justice aspect," he said during a press conference about the CAO Act.
And the debate has been further complicated by the emergence of numerous cannabis advocacy groups throughout 2021. These new interested parties include the Coalition for Cannabis Policy, Education, and Regulation (CLEAR), which was founded by the tobacco firm Altria (makers of Marlboro cigarettes) and the alcohol firm Constellation Brands (Corona beer and Svedka vodka) in March 2021.
Other powerful players with deep pockets who have been lobbying for cannabis reform include the pharmaceutical and health products industries. Despite its traditional opposition to legalisation as a threat to its vested interests, the pharmaceutical industry has been investing millions of dollars in lobbying for its desired version of it.
And so the debate is set to continue throughout 2022 – on a more crowded and divided stage. In the meantime, cannabis remains in the strictest category of the federal Controlled Substances Act – yet legal for medical or adult use in the majority of US states.
– Lorraine Mullaney CBD-Intel staff
Photo: Wikimedia Commons