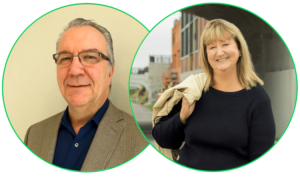 At a time of increasing regulation and competition, those looking to build or expand CBD brands need a tight focus on their message in order to be prepared for more knowledgeable and demanding customers.
That's according to Jackie and Larry Berg, co-founders of CBD Marketing Hub and speakers at the upcoming USA CBD Expo in Las Vegas.
The CBD marketplace is growing increasingly competitive and starting to resemble products in the Fast Moving Consumer Goods (FMCG) category. At the same time consumers and businesses are becoming better educated about CBD. And, while public awareness improves, regulation is also intensifying at federal, regional and local levels – making marketing more difficult.
This means thinking not only about the content of your marketing message but also about the channel it is sent in and even the overall frequency of contact – all of which could be optimised, depending on a variety of factors.
The first step in figuring out how best to improve all those aspects is defining the target customer very precisely. Large data sets can help with that.
'Resist the urge to market to everyone'
For example, CBD Marketing Hub collected data on search terms to define the relevant demographics in various US locations. It found that the typical searcher in Arizona was a 37-year-old woman looking for a CBD oil product. Meanwhile in Maine it was a man in the 18-29 age range looking for a CBD cream product.
Understanding as much as possible about the consumer and how best to communicate with them – from imagery to pricing – is essential to getting the most out of marketing, Larry Berg says.
Jackie Berg adds: "Pick a lane and stay in it. In a crowded and competitive marketplace, it's best to tighten focus. Resist the urge to market to everyone. Identify a lane that resonates with your brand and 'own it' in all paid and non-paid media."
One excellent way to do this is to look to the founders' stories. A survey by CBD Marketing Hub found that 60% of companies were founded by someone who started using CBD themselves or for a loved one. "It's an important aspect to trust. If I'm going to be using my own product or giving it to a loved one, then there must be a certain standard," says Larry.
This can tie in with charitable aspects. For example, the company Kill Cliff was set up by a former US navy SEAL. It now partners with a variety of veteran and SEAL organisations and its clientele heavily buy into that message, according to Larry.
Authentic relationships
"You see every point – from brand name to advertising and social media messaging – resonating strength, resilience and persistence. Customers that are loyal to the brand are loyal to that messaging and Kill Cliff does a lot of work with these foundations that support veterans," adds Jackie.
You see it too with other brands that partner charities for such things as breast cancer, menstruation and menstrual economy, and other veterans' foundations – all based on the founders' experience.
"They're not making it up. They're authentic. The more they can bring that forward and include that in their messaging, the easier it makes it for customers to relate to the brand and bring forward that relationship," Jackie says.
CBD Marketing Hub is currently doing research to better understand this aspect of the CBD sector and its impact on marketing.
"Younger users are very apt to buy and support companies that are socially respectful," says Larry. "It creates another avenue in how to engage with brand position. You're doing it because it matters to you and is part of the culture of the organisation that you built up – not just because you want to grow your business."
Once that message is defined, targeting advertising through specific channels can help boost marketing impact. For example, a company could target advertising and event marketing investments with companies that deliver a similar consumer audience, says Jackie.
Social media influencers
A similar effort can be made with social media channels and influencers. Extend connections to influencers that share common connections outside the CBD brand, such as an environmentally conscious influencer who is not currently a customer (but could be). According to Jackie, this can even work for smaller brands with micro-influencers.
"You can use data sets to understand how customers in group categories such as millennials use and engage with media differently in order to utilise the right media choices to engage with them," says Larry. "It's critically important how you reach initially, how you recommunicate and, ultimately, how you engage them through that process all the way from initial touch."
It can take seven to ten points of contact to convert a consumer prospect or casual customer to a loyal customer. But in an increasingly crowded marketplace, a customer is going to be bombarded with messages from all corners. Understanding exactly who that target consumer is and how they will react is essential.
"Frequency of messaging is really critical and will become even more so in a competitive marketplace as people get more advertising and messaging," says Jackie. "Keeping customer loyalty goes beyond quality and product to engagement. There are a number of brands out there doing a good job with the right marketing, social media messaging and advertising so customers feel like they're part of the brand, and that will be pivotal moving forward."
Jackie and Larry Berg will be speaking at the USA CBD Expo being held on 13-15 February in Las Vegas, Nevada, on "how to find customer love and loyalty". Speakers will also include CBD-Intel managing director Tim Phillips.
– Freddie Dawson CBD-Intel staff