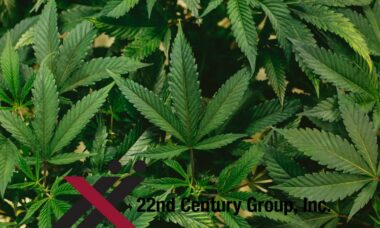 US-based 22nd Century reported record cannabinoid ingredient volumes delivered in the first quarter of 2023 and expects those to increase further throughout the year.
The company also signed a three-year licence agreement with Cookies to manufacture and distribute its alternative cannabinoid product offerings in retailers throughout the US, and has now added a similar three-year licence with Old Pal.
"This new model utilises our entire value chain, from ingredients to finished white label goods, then leverages our extensive sales and distribution infrastructure to take these products to distribution and retail point-of-sale," 22nd Century said.
During the presentation of its first-quarter financial results, the company reported overall net revenues more than doubled to $22m from the same period in 2022. Revenue from tobacco-related products was $8.9m, a decrease of 1.3% from the first quarter of 2022, while revenue from hemp/cannabis-related products was $13m, reflecting the acquisition of GVB Biopharma and continued sequential quarterly growth in ingredient supply sales.
"We are confident in the revenue opportunities ahead, leading us to announce our first full-year revenue forecast, calling for sales of $105m to $110m for 2023," said 22nd Century Group CFO Hugh Kinsman. That forecast represents a 69% to 77% increase from $62.1m in 2022.
Continued revenue growth in tobacco and hemp/cannabis combined with operating performance initiatives are expected to improve gross profit and operating results from the second quarter of 2023 onward as the company advances to its goal of cash-positive operations.
– Antonia Di Lorenzo CannIntelligence staff
Photo: Jeff W