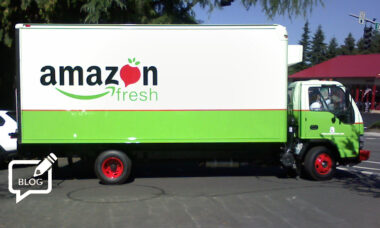 Interest from major players in traditional retail channels continues to grow.
On the back of news confirming the long-anticipated start of the CBD product trial on eBay comes news that Amazon has changed policy and will start to carry a selection of topical CBD products for customers to order online for delivery where US state laws allow.
The company told CBD-Intel: "Over the last few years customer interest in topical CBD products has increased and state regulation to sell and purchase these products has expanded. Making these products available for Amazon Fresh and Whole Foods Market grocery delivery helps to expand our selection and gives customers even more choices on products they can shop and have delivered conveniently to their home."
Amazon did not confirm when the change took place, but it is a further demonstration of CBD penetration into wider retail areas – a move that has to be made for the sector to grow from a niche product appealing to a veteran core of consumers to a commodity-type health and wellness item akin to vitamin C or other standard supplements.
Amazon did not provide a full list of the companies and products available through its Amazon Fresh and Whole Foods Market delivery – which differs from its overall online marketplace or its Prime service, though certain items can be purchased through multiple Amazon channels.
The decision shows, however, that conventional retail is growing increasingly comfortable with the presence of CBD. This is likely down to two causes.
Firstly, the longer CBD remains on the market without any adverse health effects reported – from standard use as opposed to, say, the recent mislabelling issue that affected Curaleaf – the better companies feel about its safety and their reciprocal liability.
Secondly, the more states devise clear laws on various issues around CBD, such as consumer product specifications, retail licensing and shipping, the easier it becomes for multi-state giants such as Amazon to design their automated systems to comply.
Expect to see more CBD products legitimately appearing on major retail sites as these trends continue.
– Freddie Dawson CBD-Intel staff
Photo: Jeff Sandquist
Want to know more about eBay's CBD sales trial? You can now download for free our business briefing "The anticipated eBay CBD sales trial has finally launched and is underway" using the form at the top of this page.