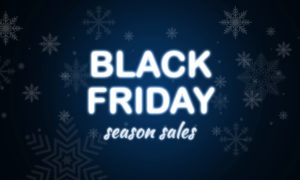 Holiday sales mean more overall to US companies than their UK counterparts, which see their products bought more regularly through the year.
But the relative novelty of Black Friday in the UK has led to some embracing a discount period as a means to create new sales, according to a number of companies.
UK CBD companies report sales mainly coming from "medical" consumers that buy a steady number of products throughout the year. Firms such as Anglo-Israeli company CiiTECH's Provacan division are not banking on a large Christmas boost.
A spokesperson said that the British CBD market is split broadly between "medical" and "lifestyle" consumers. Demand in the former category remains steady throughout the year, as those consumers buy CBD products for specific health benefits.
Similarly, Bristol-based wholesaler Amma Life says its "CBD sales tend to be steady throughout the year, as we have a large proportion of customers who take CBD supplements as a regular part of living a healthy lifestyle".
However, both companies do sell what can be considered "lifestyle products" – in particular cosmetics such as lotions and vaping items. Both companies do hope to see some uptick in sales of these items. Amma Life added that "when we do participate in sales opportunities such as Black Friday, it always proves to be popular".
Black Friday less important in the US
This contrasts with the US market where Black Friday's importance is becoming increasingly diluted. COVID could lead to some UK brands following suit and offering a sale for a longer period.
The US has a larger and more developed CBD market, and Black Friday – the last Friday in November – and the following Cyber Monday have long been enshrined as significant dates for retailers and shoppers alike. In 2019 more than 55% of the CBD brands surveyed by the CBD Marketing Hub had some kind of "Cyber special", such as gift bundles or special offers.
But the importance of the day of Black Friday itself in the US sector will be diluted this year, according to the CBD Marketing Hub, as companies extend and/or bring forward their special offers and deals. And promotions started particularly early this year, as companies attempted to offset the impact of COVID.
The Marketing Hub also expects the percentage of brands offering accelerated "New Black Friday" or "New Cyber Monday" specials to increase in comparison to last year's figures.
So while some British CBD businesses already make Black Friday and/or Cyber Monday offers, we might see the emergence of a more general period of offers and deals in the second half of the year, rather than a specific focus on those dates adopted from the US calendar. Provacan, for example, said it now sees the entire Black Friday to Christmas period as a time for promotions.
Dragonfly CBD, which manufactures and sells skincare products and CBD tinctures for oral consumption, expects an increase in sales around Black Friday and in the wider run-up to Christmas. But echoing the point made by Provacan and others, Dragonfly CBD's oil sales have been relatively steady throughout the year, which the firm attributes to a consistent customer base. Dragonfly CBD sees much more demand fluctuation for lower-strength products, which it says tend to attract new or less consistent customers.
Too early for sales trends
A number of UK companies think it is too early for a standard picture of sales trends in the UK to really emerge. For example, white-label manufacturer Taylor Mammon says over the last four or five years there has been no real seasonality in the UK market. But this may be due to it being "too young" for any such patterns to emerge.
Similarly Infused Amphora – a specialist in CBD vaping products – said it was too early for its business to identify clear seasonal demand patterns but that it hoped for increased sales ahead of Christmas. A spokesperson cautioned that the coronavirus crisis might limit public spending this Christmas – even as many retailers in many sectors bank on holiday sales to make up for shortfalls experienced during earlier lockdown periods.
Despite the lack of certainty regarding sales patterns, both Taylor Mammon and Infused Amphora – as well as Amma Life – said they would still be creating product offerings that might appeal to holiday buyers. In particular, the three companies were all looking at gift bundles that could include lifestyle products as something that might do well during the holiday season.
Dragonfly too will offer seasonal gift bundles. The company suggested discounts and better delivery options were the best way to differentiate from other options in order to help boost sales in the fourth quarter.
"Themed and creatively packaged CBD offers like 'Sleepcation' and 'Relax & Restore' bundles are helping boost CBD holiday sales among digital consumers looking for smaller, more practical gifts this year," CBD Marketing Hub said.
What This Means: Overall it seems it is still too early and the sector too underdeveloped for there to be an authoritative statement on holiday sales trends. But it does seem that the period is not as important for CBD companies as it is for those in other industries.
That being said, CBD companies do appear to be following some trends in that Black Friday is falling in importance while brands are looking at the entire late November through December period as a potential time to offer sales that could bring in new customers.
It would be interesting to see how many companies truly felt the pinch from periods of lockdown in countries such as the UK. Many appear to believe CBD products were viewed as part of an essential healthy lifestyle by consumers – with sales maybe even boosted by the stress and anxiety caused by COVID-19.
But even so, many consumers were furloughed or had income cut in some manner, leaving less money for discretionary spending. And it remains unclear how many consumers considered those CBD products to be discretionary purchases.
It is certain that companies in other industries hit by cuts in the amount consumers had for discretionary purchases were hoping for a brisk holiday season to make up for shortfalls. Second waves and ongoing uncertainty make those hopes look pretty bleak at this point.
– Simon Ferrie CBD-Intel contributing writer
Photo: Markéta Machová