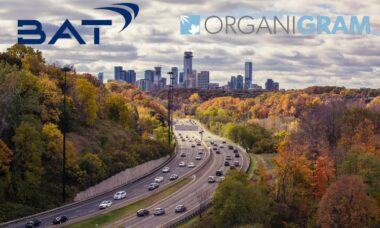 A British American Tobacco (BAT) subsidiary is investing a further CAD124.6m (USD90.2m) in its strategic partnership with Canadian licensed cannabis producer Organigram.
The investment will be through 38.7m shares to be issued over three tranches. BAT will also increase its equity position from around 19% to 45%.
Organigram CEO Beena Goldenberg said: "[BAT is] interested in understanding the evolving cannabis market and preparing the right kind of scientific background – science, research and development – so that when markets become legal, there is a chance to take advantage of them."
She added: "We are very happy that they have the confidence in our management team, and how we've handled really tough market conditions in Canada. At the same time we're very excited to have them as a strategic partner – they bring so much global expertise."
Moving forward with support and collaboration
This investment will deepen the relationship between the two companies, which began with BAT's initial investment at the same time as the establishment of a Product Development Collaboration (PDC) in March 2021.
The PDC was intended to use each company's particular experience to collaborate in developing the next generation of non-combustible cannabis products.
The PDC is now in late-stage development of a suite of emulsions, novel vapour formulations, flavour innovations, and packaging solutions, which are planned to be applied to certain products within Organigram's portfolio in the 2024 calendar year.
BAT said it "is pleased with Organigram's performance and continues to be impressed by the careful financial governance of the company".
The tobacco company added: "BAT also remains supportive of the category stewardship displayed by Organigram's management team, particularly in response to tough market conditions. These factors give BAT confidence that the new investment can position Organigram to capitalise on market opportunities and deliver incremental value for both companies."
The Canadian cannabis player said that it is expecting these innovations to deliver market share and revenue growth, "appealing to a broad range of adult consumers seeking new, progressive cannabis formats with efficacious results".
Jupiter, and further geographic expansion
Most of the investment – CAD83.1m (USD60.2m) – will be allocated for Organigram to establish a strategic investment pool, called Jupiter, designed to expand Organigram's geographic footprint and capitalise on emerging growth opportunities.
Around CAD41.5m (USD30m) of the investment will be used for general corporate purposes.
Commenting on the geographic expansion plans, Goldenberg said that the company is looking at the US, following an initial investment made in May with Phylos Bioscience. "But at the same time, global markets," she added. "As regulations change, we'll look at what are the right markets to join, at what time, and that's going to be part of the research done in order to decide where to invest."
The investment remains subject to customary conditions, including the necessary approvals by Organigram shareholders. The Canadian company intends to obtain the requisite shareholder approval at its annual and special shareholders' meeting to be held on or around 15th January 2024.
The closing of the first tranche is expected to occur after that, subject to the closing conditions being met under the subscription agreement between Organigram and BAT.
Since March 2021 BAT has made a series of minority investments in the cannabis space through selected partners. BAT said it continues to explore future opportunities by partnering with and learning from its cannabis investment companies, which includes Organigram.
– Antonia Di Lorenzo CannIntelligence staff
Photo: Matthew Henry