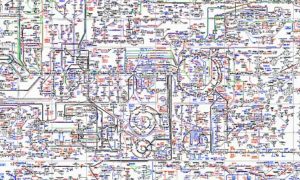 CBD-infused auto fuel and an inhalable "cannabidiol homologue" are among the latest products launched by companies from outside the CBD sector keen to leverage its paradigm synergies.
Cool Fuel, from Mujica, California-based Fuels Rush Inc., acts as a normal unleaded gasoline but is also said to ease "vehicular anxiety", which in engineering terms translates to keeping the engine running calmly and preventing components from overheating.
Some advocates of CBD-based fuels have argued that they can also cure rust and restore life to defunct batteries, but Fuels Rush CEO Henry Dearborn is adamant that the company is making no such assertions.
"We're well aware of the sometimes outlandish claims made for CBD products and we are adhering strictly to a product development and marketing policy based on sound science and established, widely appealing alternatives to science," Dearborn said.
Each ten-gallon container of Cool Fuel comes with an exhaust pipe cap that filters out CBD particles to remove the risk of passers-by inadvertently inhaling the substance. However, drivers can choose to have a small amount fed into the car itself as a means of averting road rage, according to Dearborn.
A second, THC-based product branded as High Energy is due for release later in the year.
Meanwhile, a Maryland-based startup is offering an alternative to CBD in the form of its new inhalable product dubbed Breathe…and Relax.
Supplied in convenient mini-canisters for inhalation through the mouth, ears or palm, Breathe…and Relax contains "pure ionised oxygen from the Andean foothills vibrating on the harmonic frequency of the CBD molecular structure", said a spokesperson for Gottlieb Wellness Innovations of Silver Spring.
"Our founder vowed to bring this product to the market after finding it an invaluable stress reliever in his previous high-profile government job," the spokesperson said.
Breathe…and Relax goes on sale in convenience stores and selected high school cafeterias today, 1st April.
– Anatolia Cesky-Krumlov CBD-Intel holistic congruence editor