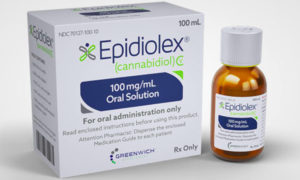 The US Drug Enforcement Administration (DEA) has removed Epidiolex, the only CBD drug so far approved by the US Food and Drug Administration (FDA), from its list of controlled substances.
"When Congress passed the 2018 Farm Bill, any substance naturally derived and containing less than 0.3% THC was removed from Controlled Substances Act controls," a DEA spokesperson told CBD-Intel."Epidiolex meets that criteria and so went from controlled to non-controlled under that authority."
It is unclear why Epidiolex only went from controlled to non-controlled at this time given the fact that the Farm Bill was signed into law some time ago.  The DEA spokesperson declined to specifically say, only stating: "Although we do not comment on communications with specific registrants, it is incumbent upon manufacturers to track the regulatory status of the  medications they produce and treat them accordingly."
CBD had been grouped with cannabis as a Schedule I drug – the most restricted schedule, including drugs such as heroin – until 2018 when the DEA declared that "FDA-approved drugs that contain CBD derived from cannabis and no more than 0.1 percent tetrahydrocannabinols" should be reclassified as Schedule V, the least restricted schedule under the Controlled Substances Act. With the DEA's latest announcement, Epidiolex moves from Schedule V to non-controlled.
The impact of moving from Schedule V to descheduled, though, is largely symbolic.
"Now that Epidiolex is no longer a controlled substance, the only real practical difference is the doctor no longer has to have a DEA registration to prescribe it," the DEA told CBD-Intel. "That being said, Epidiolex is an adjunctive/supplemental therapy and is typically prescribed in addition to other controlled substances, which do require the practitioner to have a DEA registration."
Epidiolex, produced by GW Pharmaceuticals, is an oral solution containing purified, plant-derived CBD. It was approved by the FDA in 2018 to treat seizures for those diagnosed with Lennox-Gastaut syndrome and Dravet syndrome. The European Medicines Agency approved it for use in the EU last year, under the slightly different name Epidyolex.
What This Means: The fact that Epidiolex would have been considered a Schedule I drug less than two years ago and is now not scheduled demonstrates how quickly the US federal government's view of CBD has evolved.
While the DEA would not comment on what this move means for future CBD drugs that might be approved by the FDA, Epidiolex has clearly set a precedent.
– Anthony Traurig CBD-Intel contributing writer