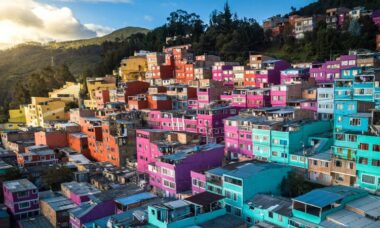 The 1st April change to permit the export of medical cannabis from Colombia has sparked an immediate boom in shipments from the South American country.
International companies such as Allied Corp, Colombian Organics, Clever Leaves, Flora Growth Corp and Plena Global have exported — or announced plans to export — Colombian-produced medicinal cannabis to multiple international destinations.
To date, Allied Corp, a Canada-based cannabis company, has led international exports of Colombian medicinal cannabis and has received orders to ship more than 7,100 kg of dried flower to Switzerland, the company said in an 11th August statement. The company said it had shipped 1,728 kg of medicinal cannabis to Switzerland and is scheduled to send 1,500 kg weekly to the European country to comply with an existing contract.
"This is the largest known legal shipment that we know of out of Colombia," Calum Hughes, Allied Corp CEO and chairman of the Board, said in the statement, adding that the company was the first to ship Colombian dried cannabis to the international market.
In a previous statement, Allied Corp said it had also requested export approvals from the controlled substance office in Colombia for additional shipments of 1,000 kg per month to a multi-state operator in the US and for a 50 kg recurring monthly order to Australia.
"Bringing high quality flower grown in Colombia to an international market is no longer a story – this is our reality," Hughes said.
Cannabis exports are only just beginning
While Allied Corp has taken the early lead in Colombian medicinal cannabis exports, several other local and international companies have disclosed plans to export locally produced cannabis in the immediate future. On 17th August, Colombian Organics reported it would ship CBD flower to Switzerland in late August, while Canada and Colombia-based PharmaCielo Ltd. announced plans to begin exporting dried flower this year with "volumes growing through the fourth quarter and 2023," the company said in a statement.
PharmaCielo CEO Bill Petron said in the statement that the company is "well-positioned to capture market share in import-dependent markets such as Germany, Israel and Australia".
In second quarter earnings calls, Florida-based Clever Leaves Holdings Inc. and Canada-based Flora Growth Corp also announced plans to begin exports of Colombian medicinal cannabis in 2022, targeting similar destination markets such as Germany, Israel and Australia.
Cleaver Leaves is pivoting "towards cultivating high-THC dry flower for export later this year" from Colombia, said CEO Andres Fajardo in a statement about the company's second quarter results.
"We remain on track to begin dry flower exports (from Colombia) in the fourth quarter of this year," Fajardo said. "We also enhanced our market pathways in Germany, where we became a fully licensed medical cannabis distributor and now have access to an expansive network of wholesalers and pharmacies across the country."
Clever Leaves announced its first-ever commercial export of high-THC flower for medicinal use to Israel from its facility in Portugal on 18th July through its partnership with Israel-based InterCure.
Flora Growth – which is based in Canada and has cannabis production facilities in Colombia – has also "begun the process of commercial exports and continued export activities to the U.S., Israel, Germany and Australia in the coming months," Jason Warnock, the company's chief revenue officer, said on the second quarter earnings call.
In an interview with CBD-Intel, Flora Growth CEO Luis Merchan explained the company's expectations for the Colombian medicinal cannabis export market.
"We can already export derivatives, which is a very small market, but when you start exporting dried flower for medicinal purposes, the market of course increases dramatically," Merchan said. "As the flow of cannabis goods begins across the globe from Colombia, it will prove what many expected the size of the Colombian market could be many years ago, and that's incredibly exciting."
Colombia 'at the forefront of cannabis legalisation' in Latin America
Colombia allowed its first-ever exports of medicinal cannabis on 1st April, sparking an immediate boom in shipments from international companies that had been awaiting the opportunity to send locally produced cannabis to destinations across the globe.
Colombia, which has been at the forefront of cannabis legalisation in Latin America, approved the export of dry cannabis flower for medicinal purposes in 2021 following a decree by former president Iván Duque, who expressed hopes that the national industry would flourish and provide opportunities for small- and medium-sized cannabis producers and farmers in Colombia. Duque said the development of the medicinal cannabis industry would introduce a "new era" for Colombia that would position the country as a significant player in the international cannabis market.
Thus far, in the months following the opening of national borders to export medicinal cannabis, Duque's forecast has been proven accurate.
Colombia hopes to be a major player in the medical cannabis export market due to excellent growing conditions and existing skillsets transferable to cannabis from other agricultural sectors, such as cut flower production.
It appears it has already made an excellent start. The 7,100 kg of anticipated dry flower medicinal cannabis exports from Allied Corp alone would surpass Israel's total exports of 663 kg for the entire year of 2021, according to the country's health ministry. Canada, which is the largest exporter of cannabis flower and oils in the world, exported 15,684 kg of dried cannabis flower for medicinal purposes in 2020, according to the country's health ministry. The Netherlands, one of the top exporters of dried cannabis flower for medicinal purposes, sent 3,700 kg worldwide last year, a figure Colombia seems likely to surpass in the short term.
Recreational cannabis could be next
On the heels of permitting the export of medicinal cannabis, Colombia is also pushing to legalise recreational cannabis. In early August, senator Gustavo Bolivar, a member of new president Gustavo Petro's Humane Colombia party, proposed a bill that would legalise recreational cannabis for adult consumption. Given that the Human Colombia party has a legislative majority in the Colombian legislature, if approved, the national cannabis market has the potential to emerge as a global leader, Merchan said.
"The current bill in congress advocates for legalisation of cannabis for adult or recreational use, which would effectively open up the imports of cannabis for recreational use," Merchan said. "Right now, we can only export for medicinal use, though in the global flower trade, about 60 percent is recreational and 40 percent is medicinal. So if Colombia were to open up for recreational, the country could capture the entire addressable market."
As for the recently submitted legislative proposal, "it's fully expected that they'll legalise cannabis for recreational adult use" in the next months, Merchan said.
– Adam Williams CBD-Intel contributing writer
Photo: Enrique Hoyos