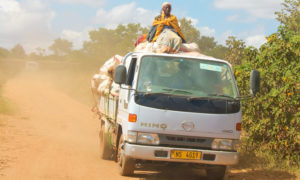 Law enforcement and financial crimes experts in Malawi and Zambia have urged lawmakers to find ways to counter corruption before they start issuing licences to cultivate cannabis.
The two Southern African neighbours have recently legalised low (hemp) and high THC cannabis cultivation, with hopes that the plant could become a major export. However, the countries' high rates of perceived corruption give room for unethical industry attitudes, according to the experts.
Malawi, with 31 points out of a possible 100, currently ranks 123rd out of 180 countries graded by Transparency International for its Global Corruption Perception Index. Zambia fares slightly better, coming in at number 113 with 34 points.
Reyneck Matemba, executive director of the Malawian government's Anti-Corruption Bureau, told CBD-Intel that corrupt practices in the emerging cannabis sector were a worry. The industry could attract drug cartels if not jealously guarded – particularly as it promises to be one of the main alternative sources of foreign exchange. It is widely hoped it can replace Malawi's current main export earner, tobacco, which has been hit by global anti-smoking efforts.
"What we have been told is that if the country starts growing cannabis it will bring a lot of economic benefits, but these benefits might not be realised if the sector would be entangled in corruption," said Matemba.
He believes the key to combatting corruption lies in creating a fit and proper licensing scheme with transparency. A cannabis regulatory authority coupled with an integrity mechanism to control unethical practices that might affect the sector could be developed, he said.
"In a country where corruption is a problem, contracts and licenses are awarded to companies that do not have the required qualifications or expertise and this could be the case with the cannabis industry," Matemba added.
High value, high risk
Malawian financial crimes expert Jai Banda agreed that cannabis was likely to attract corruption, criminal cartels and other forms of organised crime that would try to secure cultivation licences through any means necessary.
He warned that not investing properly in structures that could counter corruption in the sector would leave the country unable to reap any real benefits from the plant.
"Just as in any high value commodities, we cannot rule out the probability of the cannabis sector being infiltrated by criminal syndicates," said Banda. "The most important thing, however, would be not to look at the negative but rather focus on how to deal with such challenges."
Daniel Tonga, a Zambian economic commentator, told CBD-Intel that he saw a similar situation across the border. The high cost of the cultivation licence fee meant some companies would attempt to bribe government officials in order to get kick-backs to cushion the outlay. These might include large quotas or other resources like land and cultivation rights.
In order to combat this, a consultative approach should be taken to cannabis regulation. Interested parties could comment on what they wanted to be included in the framework, he said.
"The process of changing legislation that governs cannabis business and cultivation should be flexible, easy to change and should be non-political," Tonga added. "While corruption leads to uneven distribution of resources and unfair competition, bad regulatory structures have the potential for driving corruption into the cannabis sector."
What This Means: How exactly Malawi and Zambia develop policies to combat corruption – or indeed whether there is widespread political will to do so – remains to be seen. There have certainly been failings in policy development for other sectors. The industry will soon see if lessons have been learned.
– Madalitso Wills Kateta CBD-Intel contributing writer
Photo: Tim Donohue