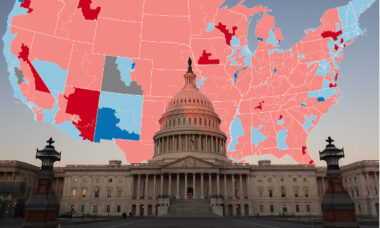 Historically, US midterm elections are not good for the political party in power. In keeping with that, experts predicted a Red Wave that would wrest control of both the Senate and the House from the Democrats, giving Republicans ample room to try to govern.
However, that wave never materialised. Republicans eked out a minor victory in the House – though with a margin so small as to make the new speaker's job incredibly difficult –and failed to make inroads in the Senate.
California Republican Kevin McCarthy is likely to cobble together enough support to become the next speaker of the House, but due to the narrow margin of his victory he is unlikely to wield as much influence as outgoing speaker Nancy Pelosi has been able to.
Democrat Pelosi has announced that she will not run for a leadership position, becoming a rank-and-file member for the first time in two decades. Representative Hakeem Jeffries of New York is expected to become the minority leader.
Pelosi, even without a key leadership post, will remain highly influential, however. "She's always going to be a mentor to us. To me, she stands there just like John Lewis," said Democrat representative Tony Cárdenas (also of California). "Every time we saw John Lewis, and there was a seat next to him, we sat down, and we asked him, and we listened, and we learned, and we grew from there. I think Nancy Pelosi is going to be that person for us."
Political point-scoring
With a very narrow majority in the People's Chamber, McCarthy and his Republicans face an uphill battle to accomplish much. In a familiar move, they are likely to hold many investigations trying to score political points.
Knowing that measures passed by the Republicans alone will certainly languish in the Democratic Senate and never see president Joe Biden's desk, McCarthy and his colleagues will try to stop progress on the Democrats' agenda and score political points by passing messaging bills, trying to garner more support for the party in the 2024 elections.
There will be narrow room for measures that enjoy broad bipartisan support, with McCarthy bargaining with Jeffries for necessary victories.
Though McCarthy hasn't been a proponent of cannabis reform, it's likely that he will have to negotiate his stance in exchange for vital support elsewhere from outspoken members of his party, such as representatives Dave Joyce of Ohio, Nancy Mace (South Carolina), and Brian Mast (Florida), who are involved in the Congressional cannabis caucus.
Still, the outlook is not good for comprehensive reform or declassification. The best bet would be the Secure and Fair Enforcement (SAFE) Banking Act – which has passed the House half a dozen times already, and which with bipartisan support could see passage, if the Lame Duck session doesn't deal with it first.
Failing that, anything further on cannabis reform is next to impossible for the first session of the 118th Congress.
Fine balance in the Senate
Democrats have held their tenuous grasp on the Senate, although most hope is lost for a productive 118th Congress due to the party's loss of the House of Representatives.
Depending on the outcome of the run-off election in Georgia between Democrat senator Raphael Warnock and Republican challenger Herschel Walker, perhaps we could see senators Joe Manchin (West Virginia) and Kyrsten Sinema (Arizona) take a reduced role on the right flank of the Democratic party.
Chuck Schumer of New York will remain the Senate majority leader. Schumer has been a proponent of declassification and legalisation of cannabis, along with intermediate reform steps, such as the SAFE Banking Act.
Unfortunately for the Democrats, unless they finally repeal the filibuster, they're unlikely to make any major inroads on legislation next year since the House has been captured by Republicans.
Realising the need to act swiftly, both chambers are getting fairly busy after they return on 28th November following the Thanksgiving holiday break. The House is scheduled to adjourn on 16th December and the Senate on 21st December.
Legislative priorities for the Lame Duck
Prior to leaving for the Thanksgiving recess, the Senate voted last week to approve the Medical Marijuana and Cannabidiol Research Expansion Act (HR 8454). Originally passed by the House in July, this bill will be sent to the president's desk for his signature shortly.
The bill will facilitate research on cannabis, ending the decades-long status quo that has stymied research into cannabis and CBD. However, the legislation could create research barriers in some cases, such as by potentially requiring registration with the Drug Enforcement Agency (DEA) to research hemp-derived cannabinoids.
In those few weeks remaining this year, aside from leadership preparing for the new Congress, there are a number of legislative priorities that will need to be dealt with.
The biggest hurdles are a must-pass appropriations bill and the National Defense Authorization Act (NDAA). The appropriations bill must be passed as either an omnibus package or as a Continuing Resolution (the current one expires on 16th December) into some time next year. The NDAA lapsed and has been functioning on a continuing resolution that is also set to expire in mid-December.
Following these two, Congress will deal with a number of expiring health programmes and statutory Medicare cuts in an end-of-year package. There is a good chance further action is likely to be seen on raising the debt ceiling (averting government shutdowns), SAFE Banking, and the Respect for Marriage Act (codifying same-sex marriage).
– James DeLise CannIntelligence contributing writer