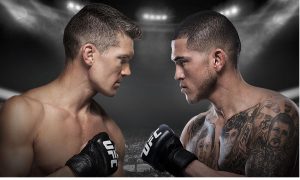 Aurora Cannabis is to collaborate with Ultimate Fighting Championship (UFC), a mixed martial arts promotions company headquartered in Las Vegas, on studies of CBD's possible usefulness in treating pain and inflammation and in recovery and wellbeing.
The research will be conducted at UFC's Performance Institute in Las Vegas, and led by Jason Dyck, an independent director on the board of Aurora Cannabis and a professor at the University of Alberta – like Aurora, based in the Canadian city of Edmonton.
UFC claims an audience of 300m fans worldwide.
"This global partnership places focus squarely on the health and well-being of UFC's talented and highly trained athletes. The Aurora-UFC research partnership creates a global platform to launch targeted educational and awareness campaigns, while creating numerous opportunities to accelerate our global CBD business," said Terry Booth, CEO of Aurora.
The Aurora-UFC tie-up is the latest deal between the CBD industry and the sports world. Two Canadian companies also recently announced that they are working with a professional rugby league team, the Toronto Wolfpack, to bring cannabidiol products to athletes and the general public, as CBD-Intel has reported.
What This Means: Sports may offer fertile soil for CBD businesses. Popular sports organisations often have large and active fan bases, with mechanisms for directly selling to them, and endorsement – explicit or implicit – of products by sporting stars is a significant marketing benefit.
Moreover, as we wrote of the Toronto Wolfpack deal, "the excitement around CBD could theoretically prove valuable to sports teams as it offers a branded area out of which they are otherwise kept. Notably, at the international level, CBD gets an explicit exemption from prohibited substances in the World Anti-Doping Code issued by the World Anti-Doping Committee in January 2018, by which natural cannabinoids and synthetics are specifically prohibited."
– Daniel Mollenkamp CBD-Intel staff