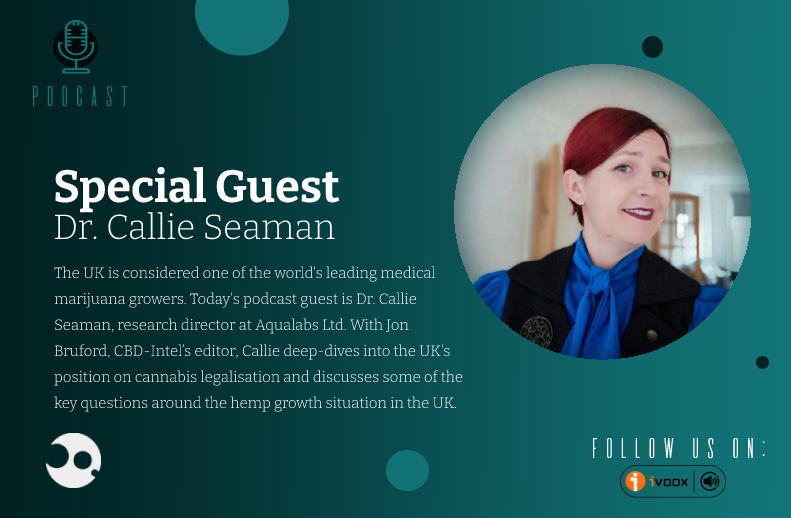 The United Kingdom is considered one of the world's leading medicinal cannabis growers. Today's podcast guest is Dr Callie Seaman, research director at Aqualabs Ltd , a UK-based company dedicated to creating high-performance plant fertilisers and plant health products. Callie shares the personal story of how she initially got involved in the medicinal cannabis world to become the cannabis scientist and advocate she is today. With Jon Bruford, CBD-Intel's podcast editor, Callie deep-dives into the UK's position on cannabis legalisation and its compounds, and discusses some of the key questions around hemp growing in the UK.
Topics examined in this podcast include:
Will medical cannabis become legal in the UK – and in what form?
What needs to change for that to happen?
What are the challenges of growing hemp in the UK?
What's behind the increased cultivation in the Isle of Man and Jersey?
If you want to meet Callie and the Aqualabs team, you will be able to do so at the World CBD Awards, an annual three-day conference and awards event taking place in Barcelona next year. You can also meet us there – and don't miss our educational session, presented by CBD-Intel's head market analyst, Nate Erskine.
If you would like more information on the subject, we are offering a sample page from our report on CBD regulation in the UK that you can download by filling the form on this page, providing a brief snapshot of valuable data around packaging and labelling requirements. If you would like to obtain some interesting conclusions for this market, invest in the full report.