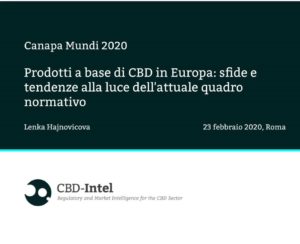 Lenka Hajnovicova, one of CBD-Intel's legal analysts, presented the latest challenges and trends in light of the current regulatory framework of the cannabidiol sector at the Canapa Mundi in Rome on 23rd February.
She discussed the key pitfalls of the regulation of CBD and CBD products in Europe and their impact on the market, as well novel food, cosmetics data and medical cannabis developments.
Download this free presentation and discover which countries are the trend-setters in policy making. The presentation is in Italian. If you need further details, feel free to contact us on our channels.