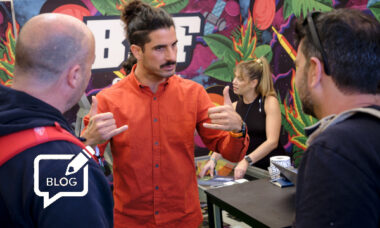 Business representatives and scientists from across the globe gathered in Barcelona last week for a series of international events dedicated to the world of legal cannabis.
A week of conferences, seminars and networking sessions culminated in one of the most eagerly awaited events for cannabis lovers in Spain, labelled "the world's biggest cannabis fair". Organisers estimated this year's event brought more than €8m into the town of Cornellá, in the outskirts of the Catalan capital.
The 19th edition of Spannabis was again a cross between a business and networking opportunity for many of the nearly 300 exhibitors and 500 companies present and a massive open-air party for thousands of visitors. From Friday to Sunday consumers enjoyed browsing and shopping around the stands while enjoying a wave of exceptionally warm weather in the outside area, where smoking was permitted, and an impressive line-up of DJs and musicians who made sure the dancing never stopped.
This festive setting may have misled some of the less business-oriented visitors into thinking the future of the sector looks nothing but smooth and promising, in Spain in particular, but the mood among some of the professional attendants was not as joyful.
Controversy still hangs over anticipated medical regime
While Spannabis's organisers declared that "these are exciting times for the cannabis sector" and that "the industry is experiencing a period of boom and continuous economic growth worldwide", some attendees from the medical cannabis business felt somewhat out of place among the stands of other companies selling gummies and vapes to enthusiastic consumers.
The medical cannabis sector, the fair's organisers said, was the main focus of the event's 2023 edition, given "the increasing popularity of cannabidiol (CBD) and the rising interest in medical cannabis".
For sure, some of the conferences held within the event were dedicated to this sector and its reportedly upcoming regulation in Spain. Spannabis even invited political representatives from left-wing parties Unidas Podemos and Esquerra Republicana de Catalunya (ERC) to talk about the expected implementation process of medical cannabis regulation.
The issue, though, remains controversial. Spain's Medicine and Healthcare Product Agency (AEMPS) forecasts that the country will quadruple its cannabis production for the medical sector this year.
The regulation process is facing worrying delays, however, even if just for a set of rules which are already considered too restrictive by the industry as they would allow sales only under prescription signed by specialist doctors and preferably in hospital pharmacies. This may explain why several of the medical cannabis participants did not share Spannabis's general celebratory mood.
"We are here because we know it's important to show up," one Spanish medical distribution exhibitor told CannIntelligence. "But we don't really belong in this kind of environment."
The head of another wellness company, mainly dealing with CBD, who travelled to Spannabis from Italy for the first time, said he was expecting "something different" and "more business-oriented" from the event.
Psychedelic specialist fills the arena
Participation in the debates of the World Cannabis Conference, which has been part of Spannabis for the last nine years, proved that interest in the scientific and legal aspects of the industry was prevalent among several visitors.
A lecture on the therapeutic and pharmacological aspects of psychedelics, held by clinical psychologist José Carlos Bouso, filled the 800-seat venue to capacity. Other sessions in the two-day programme focused on legalisation processes across the world, cannabinoids and cancer and other medical, legal and political issues.
Organisers said this year's fair, which directly employed around 300 people and involved participants from 50 countries, was the largest edition so far, although they are planning to set up an even bigger event, with more square metres added to the exhibition surface, in 2024, when Spannabis will turn 20. This will reassure many aspiring exhibitors who haven't had a chance to secure a spot at the event yet.
CannIntelligence spoke with the founders of a small US-Spanish wellness company which had been on Spannabis's waiting list for three years before they were finally able to get a booth in 2023. Another Barcelona-based cannabis store waited for five years before finally getting a space at the fair this year.
It will be interesting to see what of kind environment and mood will mark the 20th edition of Spannabis next March, and whether medical cannabis companies taking part in the event will finally be operating within a regulated context in Spain.
– Tiziana Cauli CannIntelligence staff