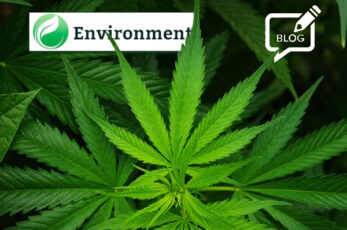 Together with climate change, sustainability, waste and environmental pollution – issues which are all inextricably interlinked – add up to arguably the big issue of our times.
And many in the cannabinoid sphere like to polish their green credentials – an important factor in an industry with long alternative culture links and an easy connection to make with a plant that has the ability to clean up polluted soil simply by growing in it.
It is the big story and set to become bigger.
Which is why readers of CannIntelligence may start to notice the appearance of the Environment logo above accompanying some of our news analysis pieces, regulatory reports and trackers. Watch out for it appearing more frequently as the ongoing story takes on extra dimensions and added importance.
For example, speaking of polishing green credentials, newly proposed EU legislation tracked in the CannIntelligence EU regulatory tracker for July shows that the European Commission wants companies to be able to substantiate any green claims they make. The proposal would require firms to use standard methods for quantifying claims.
The hope is that this would make environmental claims reliable, comparable and verifiable across the EU to reduce "greenwashing" (deliberately giving a false impression of environmental impact). This, in turn, would enable consumers to make informed purchasing decisions based on reliable and verified information.
And there are more developing issues to be aware of which other regulatory bodies have very much on their radar – like how global proposals on single-use plastics, reusable batteries and recyclable packaging could all affect manufacturers and producers of cannabinoid-related products.
These are stories which will run and run. To keep following, keep an eye out for that Environment logo here on CannIntelligence. In fact, the more successful the sector becomes, the more it will impact on the environment and the more environmental regulation will come into play.
Watch this space.
— Freddie Dawson CannIntelligence staff