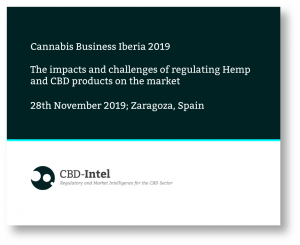 Our head of legal analysis, Pablo Cano Trilla, presented the impacts and challenges of regulating hemp and CBD products globally during the Cannabis Business Iberia conference in the city of Zaragoza, Spain. He also shared key insights around regulation and presented opportunities for the future of the market.
We invite you to download his presentation but if you want to hear directly from Pablo, he participates as a host on one of our regular podcasts where he reveals key information from this recent presentation at the conference.
If you want to get more regulatory information, do not hesitate to check our latest reports here.