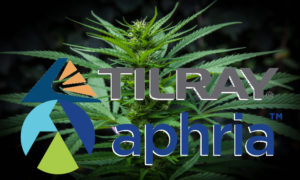 Canadian cannabis firms Aphria and Tilray have announced a merger that will create "the world's largest weed company", operating under the Tilray name.
The implied pro forma – excluding unusual or non-recurring transactions – equity value of the combined company is approximately $5bn CAD ($3.9bn USD), based on the share price of the two firms at the close of market on 15th December.
Aphria's current chairman and CEO, Irwin Simon, will lead the combined company with the same titles.
"I look forward to leading the talented teams of both Aphria and Tilray as we seek to create a leading global cannabis and consumer packaged goods company with a portfolio of medical, wellness and adult-use brands," said Simon.
"Our highly complementary businesses create a combined company with a branded product portfolio, including the most comprehensive cannabis 2.0 product offerings for patients and consumers, along with significant synergies across our operations in Canada, Europe and the US."
European opportunities
The combined company will have Canadian offices in Toronto, Vancouver Island, and Leamington – in Ontario, across the border from Detroit –  as well as US bases in New York and Seattle, plus European bases in Portugal and Germany.
It aims to accelerate its rate of growth in the Canadian and US beverage industries by leveraging its partnership with cannabis craft brewer SweetWater, which it says has the knowledge and expertise to introduce adult-use cannabis brands such as craft beers, hard seltzers, and other beverages for both the adult-use and health and wellbeing beverage trends.
It also plans to pursue opportunities to expand, with new or existing branded CBD and wellness products, by leveraging the strong hemp and wellness product platform of hemp food manufacturer Manitoba Harvest.
Opportunities in Europe will benefit from Tilray's 2.7m square foot cannabis production facility in Portugal. This cultivates medical cannabis products and has export capabilities, with tariff-free access to the EU.
Distribution will benefit from Aphria's German subsidiary CC Pharma, which has an extensive medical cannabis and distribution footprint in Germany, including more than 13,000 pharmacies.
Verano plans to grow big
Meanwhile, US multi-state cannabis firm Verano Holdings has announced plans to go public on the Canadian Securities Exchange (CSE) with a valuation of $2.8bn, in a move that indicates an optimistic outlook for the cannabis industry.
According to a term sheet distributed to investors, Verano is planning to offer up to US $75m in shares through a reverse takeover (RTO) of existing publicly held company Majesta Minerals.
If Chicago-based Verano completes its RTO and lists on the CSE, it would immediately become the third largest cannabis operator in the US by revenue, and the fifth largest by valuation, behind rivals such as Curaleaf Holdings and Cresco Labs.
The move comes only a month after Verano agreed to acquire Florida-based Alternative Medical Enterprises and nine months after an $85m deal with Arizona-based Harvest Health & Recreation collapsed.
– Lorraine Mullaney CBD-Intel staff