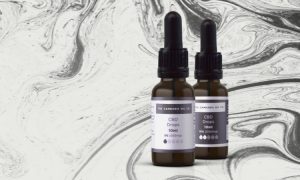 The Cannabis Oil Company (TCOC) has seven days left to raise the last £150,000 of the £500,000 it is seeking to move into the vitamins and minerals markets, as well as funding clinical trials.
TCOC is attempting to hit its £500,000 target on the UK equity crowdfunding platform Crowdcube in return for a total 4.75% share in the company.
At time of writing, 550 people have invested a combined £353,200. The company says it is valued at £10m before the attempted raise.
It says it is "seeking to become market leaders in the UK", and that it was "frustrated with the market leaders and their lack of investment in the industry".
CEO Freddie Reid said: "This is about investments by the people to benefit the people – the people being a community which has experienced or believes in the efficacy of CBD.
"The TCOC team composes serial entrepreneurs with wide-ranging business interests, turning over hundreds of millions of pounds."
The Nottinghamshire-based company has already got Charlotte Caldwell, whose son Billy was the first person in the UK to be prescribed medical cannabis, on board as a special advisor. It has applied to the Home Office for a licence to grow hemp.
Joint venture
The company has also signed up to a joint venture with pharmaceuticals supplier IPS Specials in a bid to make products which would be sold in 5500 pharmacists across the UK.
The two businesses have been asked to provide a formulation for clinical trials, following meetings with senior NHS paediatric neurologists in April.
Reid said: "The CBD market needs to be reined in, self-regulated, and then centrally regulated, in preparation for increasing demand for CBD."
IPS Specials founder Ashok Patel said: "IPS was formed by pharmacists, including myself, with more than 20 years' experience at the time, but who saw the desperate need for reliable access to specials across the health and pharmaceutical sectors in the UK.
"This is a great opportunity to build on that foundation at a key juncture in the development of CBD and its extended availability."
"Specials", in British terminology, are unlicensed medicines that are specifically manufactured or obtained to meet a patient's individual clinical need. 
What This Means: Crowdfunding is one of the most significant business trends of recent years, and with CBD having a vibrant, somewhat trendy image, TCOC's bid for cash on Crowdcube is a natural step for a start-up. Whether the company will reach its target, and whether it will become as big as it wants to be remains to be seen, however, not least because a Home Office hemp licence has not been granted.
– Peter Henn CBD-Intel contributing writer