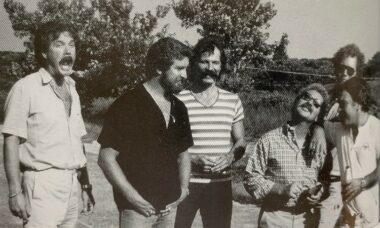 Barry "Flash" Foy had his first encounter with the cannabis plant during the summer of Woodstock in the US, in 1969.
"It was right after high school graduation when I smoked a joint with my buddy," he told CannIntelligence. "It didn't take me long to realise the financial possibilities. By the summer of 1970, I was selling pot from the back of a local bar in Columbia, South Carolina, to the GIs at Fort Jackson basic training base before they were shipped off to Vietnam."
Foy (pictured, left) couldn't have predicted that he was on a path to heading up one of the most extensive cannabis smuggling operations on the US East Coast, handling 250 tonnes of cannabis valued at close to $1bn, tax-free. Unfortunately for Foy, thanks to his mountainous success dealing cannabis (though not other drugs), he and members of his team became the main targets of Operation Jackpot, the first sting operation of the war on drugs during Ronald Reagan's presidency.
Despite serving 11 years in prison under federal drug kingpin charges, Foy never lost his original vision and, eventually, the US caught up with him. Those same activities he was charged with are now legally executed by million-dollar corporations in over 30 states under a state governmental lens.
'A brand for all the people'
Rightfully so, if not more deservingly, Foy is ready to join them with his newfound brand of legal cannabis, Gentleman Smugglers – a company named after the nickname originally given to his crew by a local journalist reporting on investigators' efforts to catch the outlaws.
"A brand for all the people," Foy said, adding that he hopes it embodies every individual who has been incarcerated on cannabis-related charges.
Foy contrasts the company's illicit origins with the big businesses looking to step into the market  after historically opposing cannabis until it appeared legalisation was an inevitability.
"I feel we must hold Big Alcohol and Pharma's feet to the fire. They must give back to the community and those who suffered because of the position that big corporations took for so long," he said.
The smuggler-turned-entrepreneur is hopeful that 2023 will be the year Congress follows through on its promise of federal legalisation, but he is not holding his breath.
"We've all heard that song and dance before," he said. "The state and federal regulators must include all displaced citizens of the drug war and open the doors to state and federal financial assistance. I know what it's like to serve time – I was convicted under the kingpin statute (§848) for running a continuing criminal enterprise smuggling cannabis and hashish into the US from Jamaica and Colombia."
Overcoming obstacles, doing good 
Addressing challenges Gentleman Smugglers has faced setting up shop, Foy said it's the nuances of catering to the consumers of capitalism. The legal market requires raising capital, designing for packaging, finding quality products, creating space on dispensary shelves, and educating the budtenders and dispensary owners about the company's story and the significance of its products. "In addition, the flower price fluctuations are difficult not only from a business ROI [return on investment] perspective but also from a sanity perspective," he said.
Foy remains confident in navigating the business obstacles ahead and that the authenticity of his story will resonate with the everyday cannabis consumer, many of whom know what it's like to be forced to operate in fear.
Gentleman Smugglers donates to the Last Prisoner Project, a cannabis criminal justice reform nonprofit organisation, and plans to be involved with other local nonprofits focused on social equity. Foy always had a mantra, which he intends to use to guide the future of his brand: "We weren't looking out the rearview. We were looking at the windshield. The vistas were getting wider, and the blue sky was getting clearer."
Foy's company operates out of Massachusetts, where he said the social equity opportunities were significant when he decided to base his company there. But he is a businessman at the end of the day, and Massachusetts has a vertically integrated system.
Gentleman Smugglers can do many, if not all, facets of its operation itself, making for a more streamlined process. "It's worth noting that in terms of why we picked Massachusetts to launch," Foy said, "it's also because, back in the day, my team used Massachusetts to smuggle cannabis into the Northeast."
'Tremendous opportunity on the horizon'
President Joe Biden recently kick-started the pardon programme, urging all state governors to follow his lead. Foy hopes that this act of solidarity will get the ball rolling on reform, especially since it's likely the US midterm elections on 8th November and the general 2024 elections will bring the issue of cannabis to the debate. "I just hope it's not used as a political gimmick, and there will be deeper reform to address the fundamental issue that no one should be jailed for enjoying this marvellous plant."
Foy's message to others like him with the same ambition is simple: "It's hard, and it takes nerve, but there's a tremendous opportunity on the horizon. Having said that, we can't shy away from addressing the fact that many states say they offer opportunities to those truly harmed," he said. "The reality is that it's incredibly expensive to build these businesses and then grow them. So my advice is to stay the course, hire a good lawyer, and always be nimble and willing to pivot."
Gentleman Smugglers will continue leaning into its legacy – and the lessons of the past – to rebuild its previous success on a legal foundation. Foy is not a man of small dreams, but his passion has remained the same for more than 40 years: to bring premium cannabis products to the masses.
– Jamie Valentino CannIntelligence contributing writer
Photo: Barry Foy