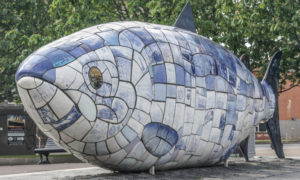 The British CBD industry is in a period of uncertainty between the country's departure from the EU and the UK's own end-of-March deadline for novel food applications.
Many firms are upbeat about the prospects for CBD businesses in Northern Ireland, but almost all those CBD-Intel spoke to expressed frustration at a lack of official clarity over critical details of the novel food process, just weeks before the Food Standards Authority (FSA)'s 31st March deadline applicable in England, Wales and Northern Ireland.
EU law – including the novel food process – still applies to CBD products in Northern Ireland post-Brexit, while jurisdiction in the rest of the UK is split between the FSA and Food Standards Scotland (FSS).
Unsurprisingly, many CBD businesses see Northern Ireland's remaining within EU jurisdiction as an advantage.
Cannabinoid-testing specialists Triverity Laboratories says Northern Ireland will be a good location for businesses going forward, but that it was a "happy accident with Brexit" and not a part of their decision to open their European labs in the province earlier this year.
'Unique position'
Northern Ireland is now in a "unique position", with advantages in terms of access to and from both the EU and the UK and for moving product, contributing to Triverity's stated goal of becoming the "in-house" laboratory for CBD firms in Europe.
But while seeing its Belfast location as an advantage, Triverity is much less positive about the current state of official novel food guidance.
Heavily involved with novel food applications, the company said there was "lots of conflicting info", and that it "can't get a straight answer", particularly over whether retail brands will be covered by their suppliers' applications. And how, Triverity questioned, will companies create new products after the deadline?
Flow CBD, also Belfast-based, said the Irish Sea border had yet to cause problems but that it could be an "incredible advantage" for businesses based in Northern Ireland. Flow CBD intends to "follow both sets of guidelines while continuing to sell to the countries that allow it".
As to the novel food process, the company said it was "still very unsure" but would "maintain status quo" until it received clarification.
The benefit of EU and UK trade
CBD Embrace is a white-label manufacturer based in Northern Ireland which also says that its location "will really bolster our position in the market", as it too expects to benefit from free trade with both the EU and UK.
The company has applied for novel food licences from both the EU and UK authorities in conjunction with its US-based CBD supplier.
CBD Embrace was also critical of the authorities, saying "currently there is no clear guidance from the FSA or other regulatory body for requirements for CBD manufacturers using the novel raw material".
Meanwhile, in England, Middlesbrough-based UK CBD Oils was also critical of the lack of clarity over the novel food process.
"It seems that every time we look like we are overcoming an issue another one springs up," the company told CBD-Intel. "There are so many different opinions on how things will work with novel food in March, particularly over whether brands can secure coverage through their suppliers' applications."
The optimistic view
UK CBD Oils is party to a pooled application which the European Industrial Hemp Association (EIHA) will submit to both the FSA and EU authorities. It hopes that "this may allow us to keep trading to Northern Ireland".
"There are many questions to be asked. With minimal information it is hard to know how things will plan out", managing director Christopher Bray said.
By sharp contrast, Anglo-Israeli company CiiTech, manufacturer of the Provacan brand, is much more upbeat about the novel food process.
The company told CBD-Intel that any products approved by the FSA "will by default find their products compliant with any and every other market". And it said the FSA decision to set an early deadline for such submissions "is set to cement the UK and UK-centric brands as leaders in the industry for many years to come".
– Simon Ferrie CBD-Intel contributing writer
Photo: William Murphy