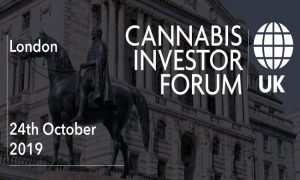 Cannabis industry stakeholders are most interested in the CBD and medical cannabis aspects of the European market, according to an executive in the European arm of a cross-trading platform.
Companies looking at Europe from places such as Canada, European companies hoping to attract investment from the US, and American investors are all most interested in CBD – both in and out of medical context – Jonathan Dickson, vice president of international corporate services at OTC Markets Group, told CBD-Intel.
Dickson joined OTC Markets Group to coincide with the opening of its London office earlier this year.  OTC Markets Group connects companies in various markets with American investors without the complexity of dual-listing on larger national exchanges.
Most of the conversations Dickson has had have surrounded the CBD/medicinal cannabis route. "We're seeing conversations happen with European companies that have primary listings or are private and want to go to us for finance…to access investors in the US," he said. "Conversations are gathering pace as we'll see more conferences and conventions in this area."
Less impact, fewer ripples
Dickson, who is speaking at the Cannabis Investor Forum in London on 24th October, pointed to producers in countries such as Portugal – who are anxious to get their products on shelves in international markets – as an example of the type of business looking for funding from American investors.
But for these investors looking at European CBD plays, questions remain over general volatility in the cannabinoid marketplace. No sector is immune to volatility, but there are reasons why cannabis-related companies can follow their own trends, Dickson said.
Internal market actions in the cannabis space affect the overall market, without causing many ripples elsewhere, because of the singular and close-knit nature of the sector in comparison to other global publicly traded industries such as automotives. It can potentially work both ways – with external factors having less of an impact on cannabinoid market indexes as well as internal factors creating movement that does not move the needle outside the still small number of investable cannabinoid companies.
In other words, cannabis-specific actions and events have a bigger internal impact on market volatility in the cannabis sector than a similar action would have in a more established or global sector.
Parallel with crypto-currencies
This is likely to continue for a period, particularly as regulators figure out how to deal with the industry. "In Europe you're seeing that it gathers a lot of pace very quickly and is in some ways the equivalent of running before you can walk," Dickson said. "You tend to see growth in the area being so big it's taking time for regulators and governments to get a grip on it and realise it's here to stay. Regulation needs to be thought through completely."
Dickson drew a parallel with crypto-currencies, which all exploded in size and popularity with significant volatility in internal indexes. The main difference is that cannabis and related products are more "sticky", he added. "This will be here for a longer term and governments are just getting their heads around how to play this – really how to monetise this for themselves."
Part of the reason for that stickiness is that a significant number of investors in the space are doing so because they believe in the cause. "Whether it's six months, two years, five years that volatility continues – whatever it might be down the line, these investors will be there in the long-term," he said. Although it's not the case for all investors, it's fair to say that, as a rule of thumb, there's a lot of belief behind cannabis, he added.
– CBD-Intel staff