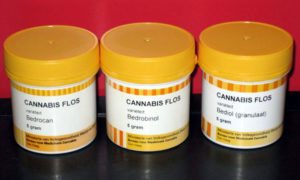 Dutch officials have granted a six-month reprieve to find a solution to an omission in the Brexit negotiations that threatens to deprive British epilepsy patients of access to cannabis-based medicines.
During the six months, all UK-issued prescriptions currently filled in the Netherlands – such as the one for oils from the company Bedrocan given to Alfie Dingley, whose case helped change British law as well as arguably public perception about medical cannabis – can still be fulfilled.
Under Dutch law, preparations of cannabis such as Bedrocan's oils are generally prohibited from being taken outside Dutch borders, though an exception was made for EU prescriptions.
Unfortunately, as the Department of Health and Social Care (DHSC) told CBD-Intel: "The mutual recognition of prescriptions did not form part of UK-EU negotiations on reciprocal healthcare. The result is that from 1st January 2021, prescriptions issued in the UK are no longer lawfully dispensed by an EU member state."
Permission to continue
Now the Dutch Ministry of Health has granted a reprieve allowing Transvaal Apotheek, Bedrocan's parent company, to continue fulfilling prescriptions for UK residents on a receipt from a UK-based doctor.
The ministry believes the six-month grace period will provide enough time to arrange a longer-term solution.
Transvaal Apotheek confirmed that it had been given permission to continue to supply prescriptions to UK residents until 1st July and that it was working with Target Healthcare, a pharmaceutical company based in Glasgow, to produce the cannabis oil in the UK within the next few months.
"As healthcare providers we feel it is our duty to continue the supply for this small group of patients who rely on our products," Transvaal said. "For these patients switching to other cannabis-based products can lead to serious adverse events."
Substitutes won't do
This was backed up by Professor Mike Barnes, a well-known pro-cannabis medical expert and consultant neurologist who secured the first UK medical cannabis prescription for Dingley in responses to statements from UK authorities that patients could switch to alternative UK products with the same 9% CBD and less than 1% THC ratio.
These comparable products, which some UK firms had offered to provide, would not make an easy substitute, according to Barnes. He said the medicine must be extracted from the same cannabis strain to ensure the correct mix and content of minor cannabinoids and terpenes.
"Sadly it has to be identical to Bedrolite and not simply contain the same CBD/THC ratio," he said. "It is the other 'minor' components that appear to be essential to the positive response by the children."
Some patients have already tried and failed to substitute other medicines for Bedrolite, and Barnes emphasised that "many will not be able to do so", while a lack of access to the right medicine might have life-threatening results.
What This Means: It is easy to overlook the impact of Brexit on medical cannabis users in the UK. Since 2018, only around 40 British patients with severe epilepsy or seizure disorders have had access to medical cannabis extracts produced by Bedrocan.
So it is fortunate that the families were able to cut through the noise and secure a change that should lead to a full, permanent solution – either with a structural change in Dutch law to permit the fulfilling of UK prescriptions as a non-EU member state or through the creation of a UK subsidiary producer in partnership with Target Healthcare.
In many ways the case could be thought of as emblematic of the bigger issues that face UK cannabinoid businesses post-Brexit. A positive solution in this vital instance could mean a positive solution may be found elsewhere in other areas overlooked in the Brexit negotiations.
– Simon Ferrie CBD-Intel contributing writer