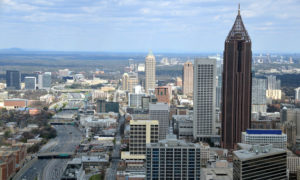 Reform of cannabis laws at federal level in the US looks to be one small step closer to becoming a reality following the likely victory of the Democratic party in run-off elections for both Senate seats in the state of Georgia.
Democrats Raphael Warnock and Jon Ossoff have both been declared victors by numerous publications over the current incumbents, Republicans Kelly Loeffler and David Purdue respectively.
The two wins (unofficial at time of writing, but with the vast majority of votes counted and the remainder coming from traditionally Democratic areas) would give the Democrats 48 seats with two Independents (Bernie Sanders of Vermont and Angus King of Maine) who typically vote Democratic and would certainly do so on cannabis or hemp-related issues. Democratic vice-president elect Kamala Harris would be able to cast the deciding vote in event of a tied vote in a Senate split 50/50.
However, Democrats holding the executive branch and potential majorities in both chambers of the legislative branch does not guarantee that any progress on cannabis reform will be made in the next two years – before mid-term elections that could change the balance.
Democratic enthusiasm for cannabis reform has been mixed. Although Harris and numerous Democratic senators and representatives have been vocal in support, president-elect Joe Biden has been noticeably more subdued in his views on the matter.
More pressing concerns
There are also myriad arguably more pressing concerns to address before cannabis reform, not least of which is addressing spiking COVID-19 numbers.
It is also unclear how many legislators from conservative areas either do not support cannabis reform or worry what such a position would do to their re-election chances.
Nevertheless, the passage of the MORE (Marijuana Opportunity Reinvestment and Expungement) Act by the House in a mostly party-line 228-164 vote during the dying days of the previous legislative session suggests a similar measure should still pass in the new legislative session – and the two Georgia victories give any such measure a fighting chance of passing in the Senate too.
At the very least, some form of decriminalisation and expungement of previous cannabis-related convictions should have a good chance of going ahead during this legislative session. Such proposals appear to enjoy broad support among both legislators and the general public.
The broader question remains whether there could be any further action to expand the legal sale of cannabis across the US – and that remains significantly less clear.
– Freddie Dawson CBD-Intel staff
 Photo: Paul Brennan