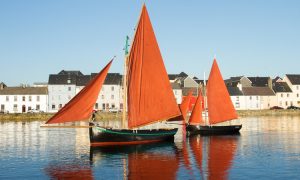 Funding is available for CBD businesses in Ireland from a government body facilitating business development.
Enterprise Ireland, which has already funded three CBD and hemp companies across the country, says it will continue to do so, providing businesses operate within manufacturing or internationally traded services, and that they comply with European and Irish legislation.
A spokesman said: "Enterprise Ireland is currently examining its position in respect of supports relating to CBD products and other hemp-related products, to ensure that this is appropriate to a changing regulatory and technological environment."
So far, the agency has given funding to at least three businesses involved in hemp or CBD, with one company, which Enterprise Ireland said was "involved in the production of hemp juice and powder" receiving a grant of €50,000 in 2016.
It has also given €330,916 in total to two companies for hemp and cannabis medical research in 2017 and 2018.
Distribution deals
Although Enterprise Ireland has said it cannot name the companies it has funded, it is understood that they include Celtic Wind Crops and Canabaoil.
Celtic Wind Crops, based in County Louth, recently secured a distribution deal with the UK-based Lloyd's Pharmacy, and is currently understood to be discussing potential distribution deals in the US and Scandinavia.
Late last year, County Clare-based Canabaoil received a €15,000 stipend from Enterprise Ireland to help grow its business as part of the New Frontiers programme.
Canabaoil boss Laura Foley said at the time: "It is an opportunity to develop our strategic growth plan with guidance from a panel of international experts but most importantly for me, it was the stamp of approval to say yes this is a commercially viable idea."
The other Irish companies which grow hemp for CBD extraction are Kama Hemp, which is based in County Monaghan,  and CB1 Botanicals, in County Cork.
What This Means: The legal status of medical cannabis in Ireland remains a grey area, with farmers still not allowed to grow cannabis for medical use two years after the Republic's health minister announced that he wanted to see the drug legalised for medicinal purposes. Nevertheless, there is a burgeoning CBD industry in the country, and Enterprise Ireland's involvement in funding the trade can be seen as a positive sign.
– Peter Henn CBD-Intel contributing writer
Photo: Max Pixel