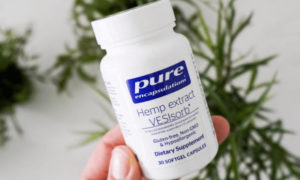 Nestlé has taken a baby step into the European cannabidiol market just a year after creating its own CBD line in the US.
The Swiss food giant will now distribute soft gel CBD capsules in the UK through the Pure Encapsulations brand of its subsidiary Nestlé Health Science, according to Nestlé Health Science chief marketing officer Dawn Setlock.
"We launched our CBD products in the US last year and are working to make them available in certain EU markets," she told CBD-Intel. "The Pure Encapsulations CBD product has launched to date only in the UK and is now available for sale."
For the time being, Nestlé Health Science is only launching one CBD product in Europe and keeping it restricted to the UK. "We determined to launch in the UK because Pure Encapsulations is a well-established, trusted and premium brand in the UK and because of market demand and general acceptance of CBD products," added a Nestle spokesperson.
The UK is also widely considered to be the major CBD market with the most regulatory clarity in terms of a route to market for food, drink or dietary supplement products containing CBD.
An international effort
The capsules will be manufactured in Switzerland by Geocann, a US company. It announced it had produced the first batch from hemp grown and extracted in Slovenia. Geocann is using the patented VESIsorb drug delivery system in the capsules, which it claims can improve absorption and bioavailability.
Geocann has ties to the company that holds distribution and marketing rights for VESIsorb, a "self-assembling colloidal droplet delivery system" developed by Vesifact, a spin-off of Federal Institute of Technology in Zurich.
"Geocann is the product formulator and manufacturer – we provide patented and clinically proven products to leading lifestyle and medical brands like Nestlé," chief operating officer Sam Davidson told CBD-Intel. "Nestlé is distributing the VESIsorb CBD soft gel capsules under [its] healthcare professional brand, Pure Encapsulations."
Nestlé Health Science owns the Garden of Life brand, which began to sell a line of broad-spectrum cannabidiol drops, soft gels and sprays at US retailers in August 2019.
Similar partnerships are increasing
Meanwhile other CBD companies have also announced tie-ins with major brands. However these deals have nothing to do with the multi-national getting involved in the CBD market and appear to largely be to get the CBD company's name associated with the major consumer goods firm in press releases and marketing materials.
For example, Quebec-based CBD maker Neptune Wellness Solutions recently announced agreements with Unilever and Kraft Heinz for it to market and distribute the multi-national companies' products in various markets.
Such partnerships appear to be a one-way street, as demonstrated by the Unilever deal which has no minimum annual purchase commitments and it being noted that it is at the discretion of Unilever to accept any order placed.
It is also thought that the CBD companies in these deals may also benefit from being able to get a foot in the door with retailers that have not yet stocked CBD products, enabling them to make money from the distribution deal and – potentially – sell more of their own goods.
Neptune did not respond to several requests for comment.
What This Means: The entry of fast moving consumer goods (FMCG) multi-nationals into the CBD space has been expected for some time.
Progress has continued to be slow, which has let speculation run wild – no doubt further fuelled by press releases such as those from Neptune. But the dabble by Nestle is a clear sign of actual movement in that regard and could be followed by others keen on making in-roads in the space.
– Jennifer Freedman CBD-Intel contributing writer
Photo: pureprescriptions