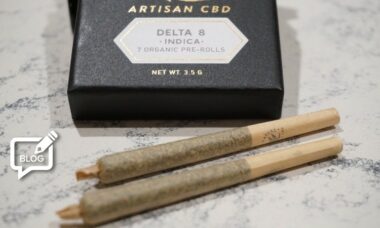 One of the most prestigious cannabis legalisation lobbying groups has come out with a disappointing – but not surprising – strong line against hemp-derived delta-8 THC products.
The National Organization for the Reform of Marijuana Laws (NORML) said in a recent fact sheet that delta-8 THC was an illegal Schedule I substance under federal law and that the US Drug Enforcement Administration (DEA) disagreed with hemp manufacturers who claimed it was legal if it was hemp-derived.
This claim was based on delta-8 THC appearing in the DEA's "orange book" listing of controlled substances as well as DEA remarks in the federal register clarifying that synthetically derived cannabinoids remain scheduled substances under federal law.
The claim, however, is unfounded. The DEA recently signalled that – while it may not particularly like the sale of delta-8 THC, it could not limit its sale under current laws, which is why various states are beginning to enact laws on delta-8 THC and other hemp-derived intoxicating substances.
DEA chief of intergovernmental affairs Sean Mitchell was recently asked whether the agency considered delta-8 THC illegal.
Mitchell replied: "What I want to say, and I'll be very, very deliberate and clear, at this time – I repeat again, at this time – per the Farm Bill, the only thing that is a controlled substance is delta-9 THC greater than 0.3% on a dry-weight basis."
What is considered legal?
According to CBD-Intel's report on delta-8 THC in the US, the substance was listed in the DEA's orange book as another name for tetrahydrocannabinols in its Schedule I.
However, the "Other names" column does not have any legal effect. In fact, beside delta-8 THC it also lists dronabinol, which is a Schedule III drug, not Schedule I. The orange book is more of a reference, and the official list of controlled substances is contained in 21 C.F.R. 1308.
The reasoning behind why delta-8 THC should not be considered a synthetically derived cannabinoid is a little more convoluted, but essentially it should be considered either a cannabinoid present in hemp or a hemp derivative – both exempt from the US Controlled Substances Act and thus out of the DEA's purview. For a full explanation on why hemp-derived delta-8 THC is not a synthetic cannabinoid, consult CBD-Intel's full report.
Beyond the misleading information on the DEA's position regarding delta-8 THC, NORML also mistakenly said the DEA "has moved to confiscate products containing hemp-derived Delta-8 THC". A spokesperson for the organisation told CBD-Intel that it was generally local enforcement agents and not the DEA who have taken any action against delta-8 THC products in the US.
The spokesperson added: "The fact sheet should be clarified to indicate that it is often local/state law enforcement, not federal agents, that engage in these actions, and I'll seek to have that point made more clearly in the fact sheet."
Flip-flopping text breeds more confusion
Further confusion on the issue was raised by NORML's summary on the safety of delta-8 THC. On one hand, its fact sheet states that delta-8 THC has only begun to appear on the market and that it therefore does not possess the same extensive safety record and scientific research behind more familiar cannabinoids like delta-9 THC and CBD.
According to the fact sheet: "Only a handful of human subjects have been tested with Delta-8 THC in scientific studies. Therefore, little is known about its long-term safety, its consumption at high dosages, or its medicinal effects."
On the other hand, however, it then says: "Given its chemical similarity to Delta-9 THC and its presence in natural cannabis, the safety of Delta-8 THC is thought by most experts to be similar to that of other cannabinoids," and recommends that consumers "obtain Delta-8 THC products only from state-regulated cannabis manufacturers, NOT from the unregulated hemp market".
The NORML fact sheet justifies this by saying delta-8 THC products need to be carefully tested for impurities, which will happen only when they are sold by state-regulated cannabis dispensaries – as opposed to hemp-derived delta-8 products, which are "manufactured from hemp-derived CBD and sold through unregulated grey market sources like convenience stores, smoke shops, and gas stations" and that these products "are not reliably tested, and have been found to contain many impurities".
All in all it seems that, at least on the issue of delta-8, NORML has shifted from consumer legalisation advocacy to lobbying for big cannabis business – potentially alienating a host of related allies in a fight that is far from over.
– Freddie Dawson CBD-Intel staff
Photo: Elsa Olofsson