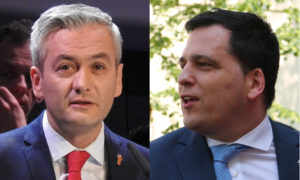 The European Commission (EC)'s initial opinion that CBD fits the definition of a narcotic under United Nations conventions has attracted increasing opposition, with European Parliament members from different parts of the political spectrum voicing criticism.
Polish MEP Robert Biedroń filed a parliamentary question with the Commission asking why it had embarked on this course when "the World Health Organization (WHO) has officially recommended not to treat…cannabidiol (CBD) as a controlled substance".
Biedroń (pictured above, left) asked the Commission whether it planned "to maintain its restrictions on CBD products in the context of the WHO's statements [suggesting CBD should not be considered a controlled substance]". He said European policy towards cannabis was inconsistent, leading to many legal and procedural errors as well as differentiation in the types of permitted products and the rules for their use within the EU.
He added that he would like to know why there was no "horizontal legislation" – legislation cutting across multiple areas – regarding the medical or recreational use of cannabis in the EU. And he asked the EC to disclose where it was in terms of work to prepare a legislative proposal.
'Small but effective steps'
"The European Union has developed its third Health Programme for the years 2014-2020. Its main provision is to provide the Union's citizens with access to better and safer healthcare, and this could be used to facilitate [their] access to medical marijuana," Biedroń said. He added that he was starting with "small but effective steps", signalling that he intended to continue pushing on the subject.
Biedroń is a member of the European Parliament's Progressive Alliance of Socialists and Democrats. In addition to serving as an MEP, he is the founder and leader of the Wiosna (Spring) party in Poland, part of the opposition Left coalition formed in 2019, and was elected the national parliament (Sejm) last October. In June 2020 Biedroń ran unsuccessfully in the Polish presidential election.
His latest statement on CBD is in line with recent comments made by a Czech MEP who also criticised the EC for its preliminary view that CBD could be considered a narcotic.
Tomáš Zdechovský (pictured above, right) of the Christian and Democratic Union/Czechoslovak People's Party (KDU-ČSL) and the conservative European People's Party, also took issue with the Commission's stance. He said he could not find "a single reasonable reason to ban a segment that legally employs 150,000 to 300,000 people".
'A huge number of lawsuits'
He added that the EC's decision could "provoke a huge number of lawsuits from thousands of those who are serious about industrial cannabis, such as research organisations, the private sector, diagnostic laboratories and growers".
In protest against the stance proposed by the European Food Safety Authority, Zdechovský has also submitted to the EC a question for written answer, asking Brussels to provide its evaluation of the potential results of its decision.
In 2015, Biedroń spurred controversy in Poland by becoming one of the first politicians to publicly admit he smoked cannabis. He told Polish media he would smoke it from time to time while serving as mayor of the northern Polish city of Słupsk. His admission came before medical cannabis was legalised in Poland, but public prosecutors declined to pursue the case or press charges.
– Jarosław Adamowski CBD-Intel Eastern Europe correspondent

Photos: Wikimedia Commons