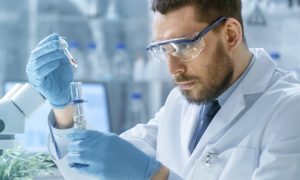 A CBD company is trying to convince other vendors to give up selling CBD oils, believing the variable bioavailability of oils will hold the industry back.
Consumers taking CBD oils are lucky to absorb 10% of the dose they take, according to Robert Leidelmeijer, director of sales and marketing at Swiss PharmaCan.
Unsurprisingly, perhaps, the company offers an alternative on a B2B basis. Leidelmeijer – who will speak on the subject at the White Label World Expo at London's ExCeL on 27th and 28th November – believes selling to other businesses is the best way to convince consumers and other sector stakeholders of the unreliability of oils.
This is due to the difficulty of passing on a complex message about the process of absorption and bioavailability to a consumer, given current restrictions on advertising and other ways of communicating direct to end-users.
"It's a different kind of business when you're selling to a business," said Leidelmeijer. "Explaining this information to another company can be quite technical but it can be done. Selling to a consumer takes an entirely different approach – a different way of selling."
Swiss PharmaCan plans to bring out its own brand for business customers that do not have the time or capacity to develop their own. It will have a clean, pharma-look to it.
'When particles are cut up to nano size…'
The company will also launch a cannabinol (CBN) product, Leidelmeijer added. The CBN product will be similar to the firm's CBD product, using a method of delivery that provides water solubility as well as significantly higher levels of bioavailability – the amount of the active ingredient absorbed into the user's circulation so as to have an active effect.
According to Leidelmeijer, Swiss PharmaCan's technology delivers close to 100% bioavailability. It encapsulates CBD in micelles – molecules the body produces to absorb fatty compounds. This enables the CBD to enter the bloodstream without significant losses to digestion – as would happen if it was to be taken unencapsulated, leaving the body to produce its own micelles.
The process has the added bonus of being water-soluble while providing advantages over other water-soluble solutions such as nanoparticulation. "When particles are cut up to nano size, it changes the working of the molecule. You don't know what it'll do," said Leidelmeijer. "If you take gold, for example, it naturally reacts with almost nothing. Acids, bases, all do not affect it. But if you make it nanoparticle size suddenly that changes and now it is so reactive it can be used as a catalyst."
In all, the industry needs to move on to a better method of providing CBD so that it can be absorbed by the end user, Leidelmeijer says. If that does not happen, then significant potency will be lost and there is less chance of CBD being useful in a medical context.
"Imagine for any other medication saying 'take between two and 20 drops per day because we just don't know how much your body is going to absorb'," Leidelmeijer added. "That's no way to work as a medical professional."
What This Means: Bioavailability and water-solubility continue to be two of the most significant issues for the CBD industry as a whole. And yet oil remains the biggest product category in almost every major market.
Perhaps it is time for a new type of product. And producing it as a white label good for others to sell on to consumers may be the best method for getting it out there.
But in the end price and inertia are always important factors. Will brands be able to convince consumers bioavailability is a big enough reason to switch to a new product? It should be an easy argument to make, but habit can be hard to overcome.
Robert Leidelmeijer will be speaking at the White Label World Expo at London's ExCeL on 27th and 28th November – as will CBD-Intel senior market analyst Nate Erskine.
– Freddie Dawson CBD-Intel staff
Photo: Swiss PharmaCan