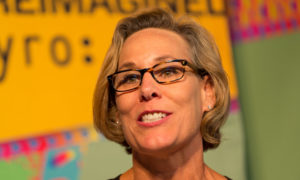 Expect US Food and Drug Administration (FDA) regulations on CBD by the second half of 2021, according to Charlotte's Web.
The US brand told CBD-Intel that based on conversations it has been having with insiders this has now become the consensus timeframe for FDA rules. "It is the million dollar question. Literally," said Charlotte's Web CEO Deanie Elsner (pictured).
"The fact that the 2018 Farm Bill did not have federal preemption for hemp products is wreaking havoc at the state level and without clear regulations from FDA everyone is living on the edge of their seats. This includes manufacturers and retailers as they struggle to make sound business decisions."
The company said it was disappointed the FDA had taken so long to issue a decision on hemp extract products. It saw it as a failure of government to do its job that forced the industry to take matters into its own hands – with mixed results.
The Farm Bill did a great thing in legalising hemp cultivation but fell short by failing to set federal parameters, leading to each state making its own rules and exposing consumers to risk by leaving significant grey areas in regulation, Elsner added.
Liver toxicity test results imminent
"Charlotte's Web is a very vocal advocate for strict and precise federal regulations for hemp extract products," she said. "We are one of the main voices asking the administration and Congress for much needed regulations for the hemp industry. In the absence of FDA regulations, there is chaos in the marketplace and that is a disservice to consumers.
"This is why we test and verify at every single step of production. For example, we test for more than 60 distinct toxic pesticides and herbicides on every harvested crop of organically grown hemp extract. We know who our customer is, it's people like our namesake Charlotte, and therefore we do all we can to ensure the efficacy and safety of our products."
Key to advancing regulations is the ValidCare study into liver toxicity – results from which are expected by the end of the year.
Charlotte's Web shares the view of many other industry experts CBD-Intel has spoken to that potential issues flagged by the FDA regarding CBD and liver toxicity are more likely due to the specific limited data from Epidiolex trials that used extremely high doses in conjunction with other products such as with anti-convulsants and immuno-therapeutics.
"We know liver enzymes can be elevated by common factors like drinking a cocktail, or taking medication, but it's not always clinically significant. This study specifically addresses FDA's requests for data on liver toxicology and hemp," said Elsner.
However, she pointed out that there was little else the FDA could do but take a cautious line in the absence of any other data – which is why the ValidCare study is so important to the future of regulation for the industry.
Bill will need to introduced again
"We are concerned that full spectrum hemp products are being held to a higher level of scrutiny than most dietary supplements," she said.
"This study specifically addresses FDA's requests for data on liver toxicology and hemp, delivering 'real world evidence' associated with current consumer use and effects of commercially available products. Our goal is to help FDA gain the data it needs to confidently regulate hemp derived CBD for American consumers who deserve to know that the products they consume are regulated."
It remains to be seen just what form the FDA regulations will take. "We see a few pathways. One could be legislative like HR 8179, the Griffith-Schrader bill, that will clearly call out CBD and other cannabinoids from hemp as dietary supplements. We have also been asking FDA to accept New Dietary Ingredients Notifications from the hemp industry."
HR 8179 is the main bill in Congress for creating a path to market for CBD products. It would need to be reintroduced in the next legislative session but that will not be an issue as the current version already enjoys bi-partisan support and is continually adding new co-sponsors.
The bill also enjoys significant backing outside Congress, with state agriculture groups, industry groups and retailers all voicing support, said Elsner.
What This Means: The suggestion of a firm date for US federal CBD regulation is a new development, even if it has not been confirmed by the FDA or other US regulatory powers. The new year should bring plenty of developments as these regulatory plans move forward.
Elsner spoke at the Benzinga Cannabis Capital Conference last month. The day-long virtual event featured an interactive forum of live and on-demand presentations, investors and leaders in the cannabis space.
– Freddie Dawson CBD-Intel staff
Photo: Stuart Isett/Fortune Brainstorm TECH