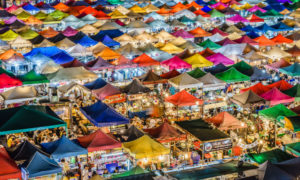 Swiss consumers are head-for-head the biggest purchasers of CBD products, according to CBD-Intel's 2021 market size analysis.
A population of just under 7m created a CBD market with an estimated value of $77m last year. This compares to countries such as France and Germany, where populations of 50m and 68.5m only created markets with a size of $73m and $83m respectively. Austria, with a similar population, only managed $11m ,while the Netherlands (13.5m) and Canada (29m) both performed worse, with $31m and $35m in market value.
However, the Swiss market looks likely to stagnate somewhat going forward – increasing only to $79m this year and seeing smaller increases than many other markets in subsequent years, CBD-Intel predicts. This may be due in part to the rise of legal cannabis products within the country as CBD consumers turn in greater numbers to cannabis-based items.
Instead it is markets such as France that will see greater growth. CBD-Intel believes the French CBD market will grow from $115m this year to $180m next year, largely due to a softening in enforcement brought about by the Courts of Justice for the European Union (CJEU) Kanavape decision announced towards the end of 2020.
New regulations and policies will take some time to implement but France should start to see the benefits in the near future, according to CBD-Intel's predictions.
Breaking the $3bn barrier
A similarly steep increase is predicted between 2022 and 2023 in the US in particular, where the market is expected to break the $3bn barrier for the first time.
There is also substantial growth predicted in a number of currently more minor markets such as Ireland, Greece and Japan over the coming years.
Overall, all markets will see positive growth according to our predictions. But this growth will come from different product categories as consumer preferences shift.
CBD-Intel predicts a rise in capsules to replace oils as the dominant form, along with a continued rise in interest in topicals as well as cosmetics due to the various restrictions that remain in place on ingestible products such has edibles, supplements and drinks.
Massive increases in topicals are expected in markets such as France, Germany and the UK this year and again into next year. Other markets, such as Austria and Japan, are predicted to be further behind the trend and will likely see their main increase in those categories between 2023 and 2024.
Overall Japan will see massive acceleration in both categories, going respectively from $4m (topicals) and $2.7m (cosmetics) to $100m and $110m by 2025 – though the tail end of such predictions is inevitably difficult to determine.
Capsules to overtake oils
Meanwhile, capsules are expected to overtake oils in many markets due to the acknowledged shortfalls of the latter. Capsules' more accurate dosing, easier use and inoffensive profile give them an advantage.
CBD-Intel predicts that this trend will first be seen in markets such as the UK and Canada, as well as, to a lesser extent, Ireland.
Market size for oils will peak at $235m in 2023 for the UK, at $4m that year for Ireland and at $23m for Canada in 2022. It will then fall off dramatically in 2024 to $187m in the UK, while seeing a lesser $3m drop to $20m in Canada and stagnation in Ireland.
This will be followed by most other markets seeing oils peak in 2023 before dropping significantly in 2024. For example, the US is expected to see a drop of $80m as the $780m 2023 market value drops to $700m the following year.
CBD-Intel's full market size analysis, tracking market value in the 13 largest CBD markets across a variety of product categories, can be viewed here. All stated market values are guided by in-house survey, pricing, and other market data.
CBD-Intel's market model methodology also considers downward pricing pressure over the coming years, as has been observed in the historical market tracked by CBD-Intel in its pricing data products. Market size estimates run mid-year to mid-year.
– Nate Erskine CBD-Intel staff
Photo: Aotaro