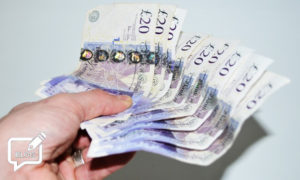 Could a price revolution be coming? A drop in the cost of CBD as a bulk ingredient has not been wholly reflected in falling CBD product prices. There appears to be a lack of consumer awareness about the lower price of CBD not matching the premium pricing they are still paying for many CBD products.
But noticeable new decreases of as much as 25% in the median price have been seen in major product categories such as the most prevalent global format – standard oil – during CBD-Intel's quarterly tracking of product pricing across major markets.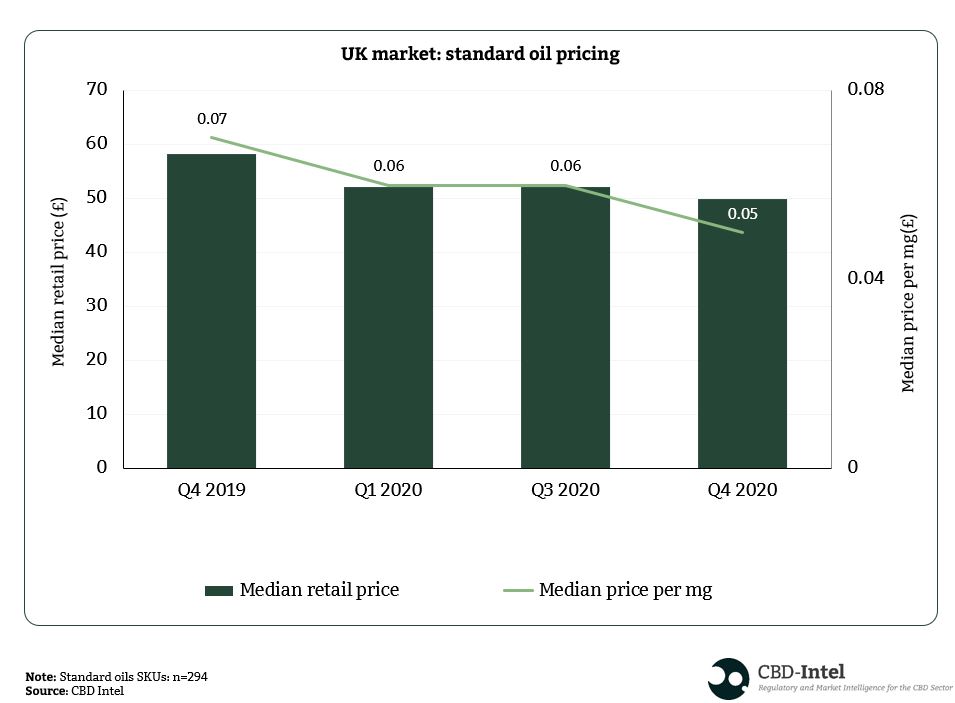 Add to this the appearance of more low-priced offerings in the market, and there is a major question analysts are asking following the modelling of CBD-Intel's market sizing model, which runs predictions through to 2025 for the consumer packaged goods (CPG) CBD sector across 13 major geographical markets.
Could this be the start of a major downward trend in prices offered to consumers? And if so, how low can they go and when will they bottom out?
Consumers are well aware their CBD products come at a premium price, but the average consumer does not know the cost price of the CBD that goes into their products. Current pricing levels of consumer CBD products have remained high, with a small number of brands pitching at prices well below the average.
On the other hand, CBD ingredient prices have dramatically reduced over the last few years. Most recently, offers from reputable sources in the market are reaching prices of £300 per kg for isolated CBD, and as low as £600 per kg for 80%+ CBD broad spectrum distillate.
With these prices, what is keeping the price of finished products so high?
Special relationships?
Lack of transparency is one area that can bear some of the responsibility. A lot of CBD marketing lays claim to special relationships with farms or superior quality formulations, though in reality the supply chain is less diverse than the marketers want consumers to believe.
A handful of large suppliers and white labellers power the majority of brands. There are some brands that can truly claim seed to shelf, but these are a tiny percentage of the more than 3,500 brands CBD-Intel has identified across the major markets.
CBD-Intel's recent consumer survey of UK users revealed that half the respondents found it difficult to identify a trustworthy or reputable brand, which for now may justify high prices if a consumer is convinced of the product quality.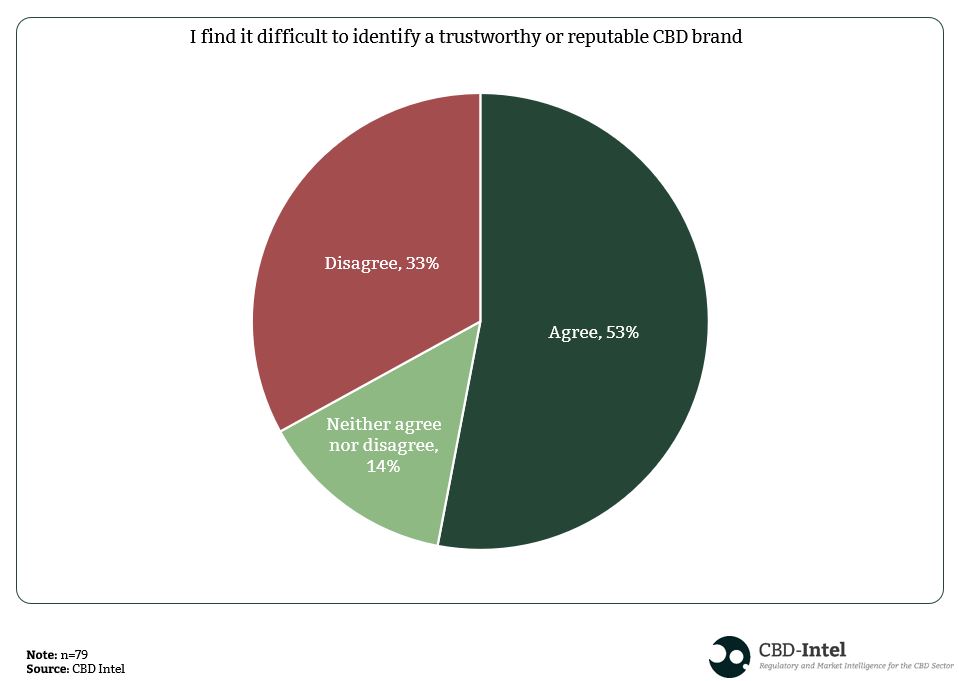 However, with the looming novel food regulations in the UK, the raw ingredient supply chain is potentially set to be further consolidated as smaller brands may be forced to switch to validated suppliers, while larger players can rely on their own formulations due to proprietary novel food applications.
If this scenario comes true in the UK, coupled with commodification of raw ingredient supply chains, competition may come down to price alone, which could result in much lower prices to the end consumer.
If and when this happens is for now up in the air, yet all the elements are coming together to cause a perfect storm for a race to the bottom for CBD products in the UK. And, as CBD product manufacturing and supply chains are quickly becoming no different to mass-adopted FMCG products, the price of that bottom could be very low indeed.
– Nate Erskine CBD-Intel staff