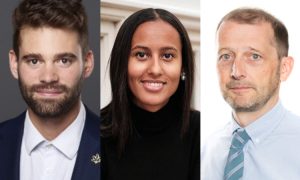 Check out all our coverage on novel food here.
Market limitations in Europe due to EU novel food regulations mean members of the CBD industry are likely to look at areas such as cosmetics and products for animals.
It will be at least a couple of years before the situation changes in Europe with regard to the use of CBD in food products and supplements, according to Joscha Krauss (pictured, left), CEO of Berlin-based MH Medical Hemp. In the meantime expect to see fast growth in CBD cosmetics – particularly with growing demand from East Asia and South America combined with continued high demand from North America.
There has also been a growing amount of research in the area of CBD skincare products. This should increase demand in a market where the potential has yet to be tapped, Krauss added.
Cosmetics will be important for the sector going forward, agreed Jasmin Thomas (pictured, centre), CEO of Ohana CBD of London. The biggest demand in the next couple of years will be for sublingual oils and skincare products, she said. There are likely to be more offerings in major retailers such as Boots and Tesco in the UK. These offerings will also become more integrated into existing ranges.
"We expect [cosmetics] to be the biggest CBD market in the short term," Krauss said. "Also relevant will be CBD products for pets and CBD e-liquids, although both of these come with some regulatory and market hurdles that will see their growth potential curbed."
Pet market 'worth investing in'
This for example includes the UK's Veterinary Medicines Directorate (VMD) classifying all CBD-containing products as medicines – even including things such as pet food or livestock feed.
This means they must go through the correct process before they can be placed on the market, according to Thierry Kern (pictured, right), regulatory affairs specialist at PenTec Consulting.
"The European Commission (EC) and European Food Safety Authority (EFSA) have made clear that both feed for animals and food for humans containing CBD require approval prior being marketed," Kern added.
Activity in this area will require significant long-term investment of capital and resources both before and after approval, he said.
"Zootechnical feed additives require proof of efficacy but are holder-specific. The pet food market is huge and would be worth investing in," Kern said. "The advantage is that approval for a veterinary medicinal product allows excellent intellectual property protection.
"Suitable commercial partners are likely to be large veterinary pharmaceutical players. However, most have a low appetite for risk and sometimes a slow decision-making process."
– Freddie Dawson CBD-Intel staff