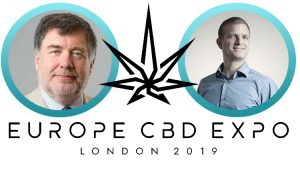 A murky legal situation and lack of government direction continue to hold back the CBD and emerging medical cannabis sectors in the UK and across the EU. That's the view of Mike Barnes, a consultant neurologist who will be a keynote speaker at next month's Europe CBD Expo in London.
Barnes (pictured above, left), honorary professor of neurological rehabilitation at Newcastle University and an adviser on medical cannabis to the UK and Irish parliaments, told CBD-Intel there had not been a need for doctors to prescribe CBD products as they have been available as over-the-counter consumer products. However, novel food guidance could result in them being removed from sale, causing a disaster both for companies and for consumers who use the products for medical conditions.
"At the moment you should be able to sell it off the shelf or online. But if EU novel food guidance is implemented by the British government that will essentially take it all off the shelves," Barnes said. "The legal dispute continues but they'd be out of business."
He said this would have an impact on users' health as CBD is used not just for general wellness but also to address specific medical conditions.
The situation for those relying on prescribed high-CBD cannabis products is even gloomier.
A change of statutory instrument by the British government led to a reclassification of cannabis under the Misuse of Drugs Act without requiring primary legislation. But the government has not followed up on actual implementation, Barnes said.
Barriers holding doctors back
Almost no doctors in the UK are currently prescribing cannabis. It is an issue the government could address, even though it claims the issue is out of its hands. Barnes said an overview of the law and why doctors are not prescribing would form the basis of his keynote speech at the CBD Expo.
He said there was a whole litany of barriers holding doctors back from prescribing cannabis in the UK. Prescription recommendations from doctors' bodies are very negative. For example, the British Paediatric Neurology Association (BPNA) is sceptical of cannabis's uses for epilepsy – despite this being the area of research where the largest number of robust clinical trials can be found.
For those that are willing to go beyond the guidelines, which are not mandatory, further problems appear. A number of clinical commissioning groups – local bodies for the provision of health services through the UK's National Health Service (NHS) – have said they outright refuse to pay for cannabis-based medicines, though most never even make it to that level, Barnes said.
With no insurance cover available, this means patients who receive a prescription may have to pay £800-£1000 per month. That sort of expenditure is beyond the means of around 95% of the population, without even considering the amount of time required to deal with the byzantine personal import licensing structure.
In some places it's worse
"The government says it's changed the law and can't tell doctors what to prescribe. But it could counteract the bureaucracy behind it all," Barnes added. "If a doctor wants to prescribe, make it that they can prescribe it like any other prescription drug instead of having to go through all these hoops. Then fund it centrally, which is what was said but has not happened yet."
The situation is not much better in a few EU countries – and significantly worse in some others. Many still have no provision for the prescription of medical cannabis, Barnes said – adding that in states that do, such as Germany, only around 2% of the medical profession will prescribe it.
Things could improve in the UK and elsewhere in Europe if more prescriptions are issued. Importation costs would become lower per person as fixed costs are spread out further. And other provisions would simplify the process. However, little is likely to happen without further government action.
Mike Barnes will be speaking at the

Europe CBD Expo

to be held at London's ExCel Centre from 12th-13th July. CBD-Intel is a media partner of the event, and our managing director Tim Phillips (above, right) will also be among the speakers.

A limited number of free tickets to the event are available to CBD-Intel subscribers on a first-come first-served basis until 30th June 2019 – go to the ticket information page and enter code "CBDIntel" on checkout. Once they're gone, contact

Judit Bach at CBD-Intel

for a discount.
– CBD-Intel staff