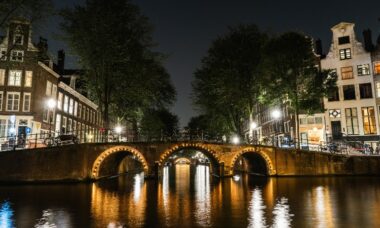 The nearly 18m people of the Netherlands face uncertainty following the collapse of the Dutch government earlier this summer. The cabinet is currently overseeing the nation with a "caretaker" status until a general election is held on 22nd November.
At the time of the government's demise, it was led by a coalition of four political parties, with prime minister Mark Rutte at the helm since 2010.
This centre-right four-party coalition comprised: the People's Party for Freedom and Democracy (Volkspartij voor Vrijheid en Democratie, VVD), the Christian Democratic Party (Christen-Democratische Partij, CDP ), Democrats 66 (Democraten 66, D66), and the Christian Union (ChristenUnie, CU).
Following its collapse, which was primarily due to its inability to compromise on asylum issues, it looked as if the government would be led by a centre-right coalition. However, there is also increasing talk of the likelihood of a more progressive government.
Politico's Poll of Polls shows a sharp decline in the previously growing right-wing Farmer-Citizen Movement (BoerBurgerBeweging, BBB). Instead, a newer left-leaning political party, the New Social Contract (Nieuw Sociaal Contract, NSC) has been formed since the collapse and is rapidly gaining popularity.
Unclear future of cannabinoid policy
It seems likely that the NSC will join forces with the established left-wing coalition GroenLinks-PvdA – an alliance between GreenLeft (GroenLinks, GL) and the Labour Party (P van de A, PvdA). Whether or not they accept a coalition with the VVD to claim power or with smaller left-wing parties remains to be seen.
The NSC declined to comment on the future direction of its cannabinoid policy. A spokesperson for the NSC told CannIntelligence that it will present its manifesto for the upcoming election sometime before 1st November.
"Beforehand, it [would be] premature to give you our stance," the spokesperson added.
In either event, the new government will be further to the left ideologically than its predecessor governments, and a new leader will emerge as Rutte, the longest-serving prime minister, has announced his retirement.
It was previously thought that the BBB would take the lead, and its libertarian stance would be more lenient on regulations, perhaps especially those concerning the future direction of cannabinoids.
In the current, left-leaning landscape, the future of cannabinoid regulation will be driven by public support.
– James Demmin-De Lise CannIntelligence contributing writer
Photo: Ehud Neuhaus