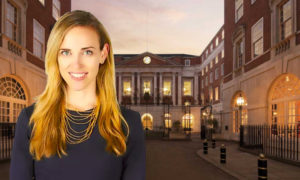 Investors want to see a proven track record from a CBD company more than anything else, according to the  organiser of a London investor summit.
Currently – given the vast majority of the industry is at most half a decade old – this can be hard to do. But as the market restructures and the industry moves to its next phase, the strongest candidates will become clearer, said Noa Kahner, founder and CEO of Kahner Global, which is hosting the Cannabis Private Investment Summit in London on 23rd March.
The recent downturn has seen decreased interest and that combined with heightened uncertainty means the industry is likely to enter a period of consolidation. "The get-rich-quick approach most thought is being re-evaluated while the market restructures a bit," said Kahner (pictured).
But companies in almost all areas of the CBD industry could see interest if they come through that consolidation period with a record of solid financial performance. The one exception may be the companies involved in initial production.
Quite a few private investors, typically high net worth investors and family offices – a company handling wealth management for wealthy individuals and groups – do not want to deal with plant-touching companies, Kahner explained. However, other areas such as extract, manufacturing and brands in areas such as beverages are all very much being discussed as potentials for investment.
"Technology is also an interesting play for those interested in the industry that do not want to touch the plant with their investment," Kahner added. "While there are some investors looking to invest in very early stage companies, the ones putting in six figures or more really want to see some proven track record and a stable team.
"It is so important to make sure the company you're investing into is following compliance and legal practices in their state or country."
Tim Phillips, managing director of CBD-Intel, will be among the speakers at the Cannabis Private Investment Summit, taking place on 23rd March at BMA House in Tavistock Square, London.
– CBD-Intel staff