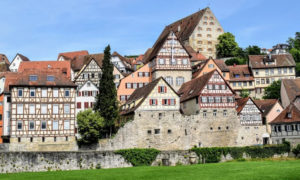 Setting up studies as a pretext to allow the sales of hemp flowers in Germany is unlikely to succeed – but more are expected to try it as they look for ways to avoid legal action.
Flower sales for scientific purposes are currently exempted from Germany's laws on psychoactive substances. Business-to-business (B2B) sales remain a grey area but are seemingly also permitted at present. Other CBD products can be sold under some interpretations of the law – if they are entirely free of THC.
However, different German states are taking different stands on the sale of CBD products, leading to confusion, losses and closures.
Inevitably, some are now looking at flowers as a possible way round the problems, claiming the law is unclear on whether they are allowed.
Wenzel Cerveny, the owner of a shop in Bavaria which was raided last year, told CBD-Intel that he came up with the idea of putting together a qualitative study for customers on the effect of CBD products in order to stay within the law and protect his business from further raids. He believed he could sell consumers flowers while falling under the exemption in place for scientific research purposes.
'The law is clear'
So far the shop has not been raided again, and Cerveny said he had received conflicting opinions from lawyers about the sale of CBD products.
"There is no clean, legal way of doing this," he said, suggesting that the psychoactive substances law is open to various interpretations.
However, while there may be regional differences of approach, products like CBD flowers should not be on the market, Kai-Friedrich Niermann, a lawyer who blogs at canna-biz.legal, told CBD-Intel.
"The law is quite clear," Niermann said. "The public prosecutor and the court in Braunschweig positioned themselves quite clearly last year: the trade of CBD flowers falls under the psychoactive substances law."
The case in Braunschweig, which opened in September 2019, ended with the two owners of the CBD shop Hanfbar being convicted of unlawful trade in narcotics.
Prosecutors privately suggest they would be likely to take a dim view to the idea of creating scientific studies as a ruse to sell flowers.
'Oh no, it isn't'
But not everyone sees it as a black-and-white issue. To Jürgen Neumeyer, CEO of the German industry association Cannabis Wirtschaftsverband, the fact that raids on shops are more frequent in some German states than others demonstrates that the question is not clear-cut.
"When raids happen, it's usually either out of the suspicion that products exceed the allowed THC limit, or because there is something unclear with novel food regulations," Neumeyer told CBD-Intel. But products like CBD flowers don't fall into either of these categories, and the result is that there are an increasing number of challenges to the interpretation of the law, he added.
This lack of clarity is not helped by even the Federal Centre for Nutrition making reference to the use of "dried flowers and leaves of the hemp plant marketed as tea". As a result of this advice, numerous flower products can be found on the German market in both tea and unprocessed formats.
Some retailers are being rather creative by adding warnings such as "not recommended for ingestion or consumption" and "only intended for smelling or as an incense".
For Cerveny the whole issue has become something of a quest. Outside his working hours he is fighting a battle for shops like his to be able to be protected and not challenged by the law. "We as business people will mount pressure," he said. "If we get to Germany's highest court and still our arguments are rejected, we will turn to EU law."
– Cecilia Butini CBD-Intel contributing writer
Photo: Isa Marinescu